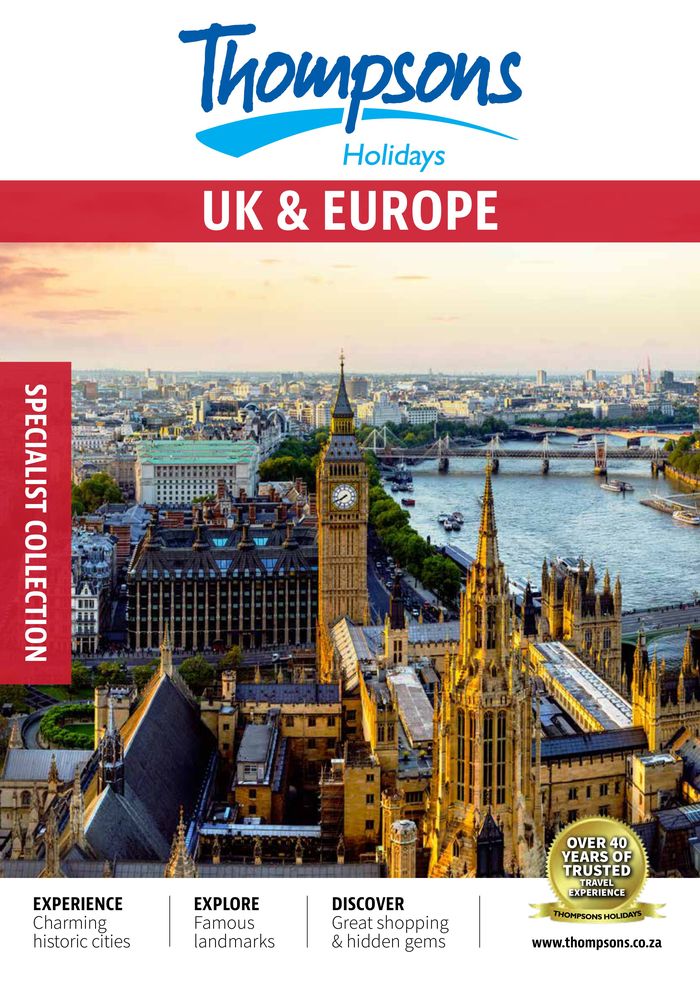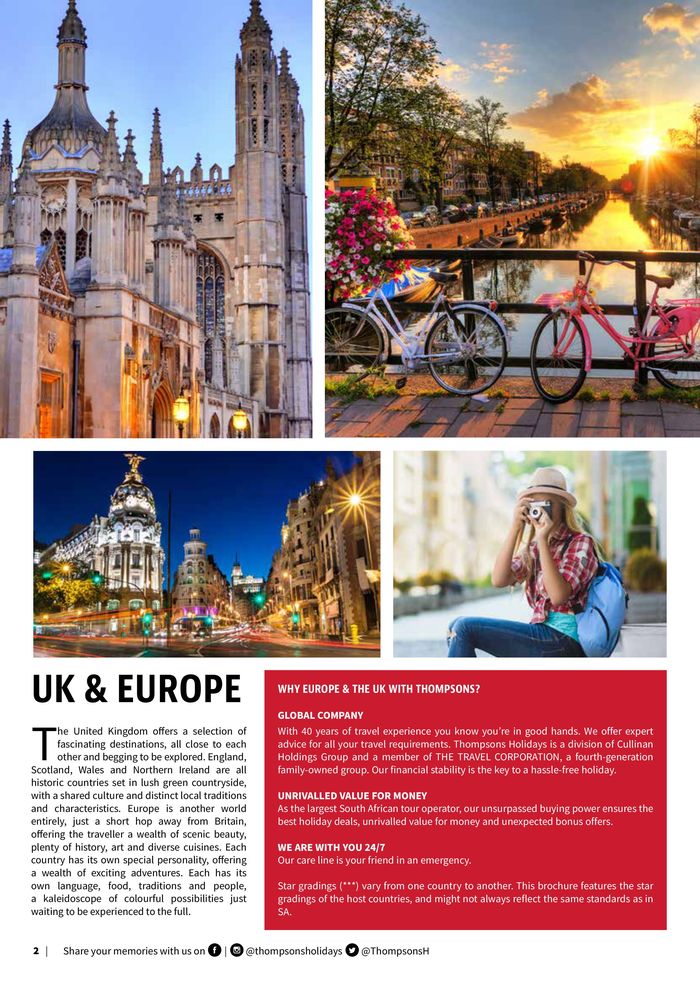 UK & Europe - Specialist Collection
Looking for the best Thompsons offers
If you are looking for the biggest Thompsons discounts you are in the right place. Here on Tiendeo, we have all the catalogues so you won't miss out on any online promotions from Thompsons or any other shops in the Travel category in your city. There are currently 11 Thompsons catalogues on Tiendeo. Browse the latest Thompsons catalogue "UK & Europe - Specialist Collection" valid from from 3/10 to until 31/12 and start saving now!
Find Thompsons catalogues in your city
Thompsons, all the offers at your fingertips
Are you looking to book your dream vacation with your partner or family or even by yourself? Thompson travel South Africa can help you get the best affordable deals, have a look at the Thompson catalogue for specials.
About Thompsons
Thompsons is one of South Africa's leading travel agencies specialising in leisure travel in an around South Africa. Thompsons competes with leading travel agencies South Africa has to offer and thus affords clients market competitive prices and world-class services, whether you're interested in a bush getaway safari holiday or simply a romantic trip for two, Thompsons holidays are a must. Thompsons Africa caters for your holiday needs throughout the African continent, and the company also offers packages throughout the Mediterranean, Europe, North & South America, Oceania, Middle and Far East, South Africa and the Indian Ocean Islands. Needless to say Thompsons tours are simply a must for a comprehensive solution to your holiday needs. See the Thompsons catalogue for special package deals. You can also get excellent deals as part of the Thompsons Groups & Incentives travel package tailored to large groups.
The origins of Thompsons
Thompsons holidays was founded in 1978 and have since grown to become a popular travel agency professionals specialising in holiday and travel needs in and around South Africa. With more than 38 years within the travel industry, the company has since grown and are members of ASATA (Association of South African Travel Agents). Thompsons thrives on their passion to deliver world-class services and products, as well as seasoned experience in the industry and a team of staff that are committed customer satisfaction.
Travel at its best with Thompsons
Thompsons is your number one travel agency for not only excellent holiday deals but simply great customer service and afordability at its best. If you're on the lookout for some great holiday packages from South Africa, who better yet to contact than an agent at Thompsons travel agency. Thompsons competes with leading travel agencies and have more than 35 years specialising in the travel industry. Thompsons offers excellent deals exclusive to people travelling in large groups with money saving incentives, enquire at Thompsons for further details. Thompsons Travel promotes a positive change within SA and is part of the TreadRight Foundation which is dedicated to sustainable tourism initiatives. Thompsons is also part of the GoRhino Foundation which is working hard at helping to save the endangered rhino species. For more information about the foundations and non-profit fundraisers, contact Thompsons directly or via their online website.