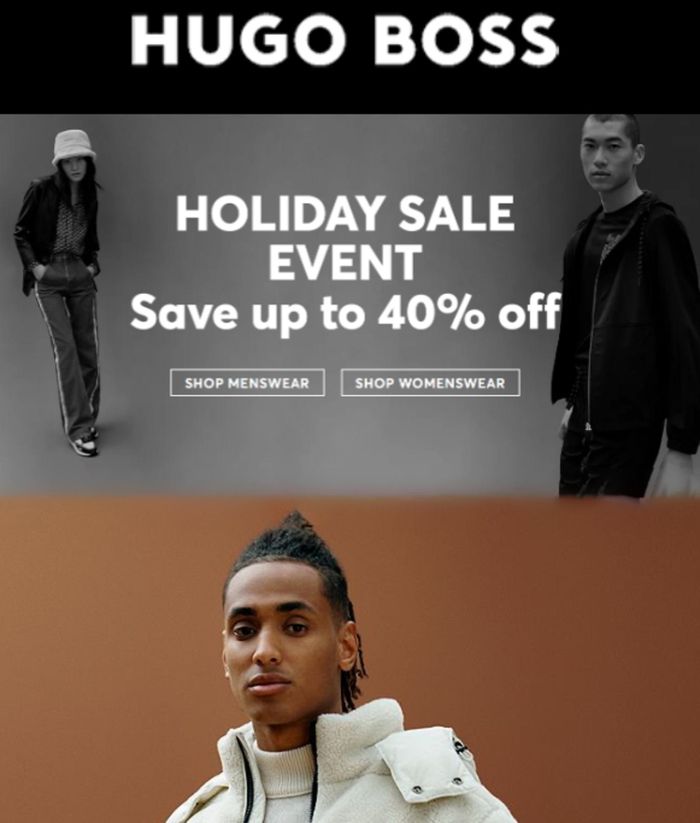 Holiday Sale Up To 40% Off
Looking for the best Hugo Boss offers
If you are looking for the biggest Hugo Boss discounts you are in the right place. Here on Tiendeo, we have all the catalogues so you won't miss out on any online promotions from Hugo Boss or any other shops in the Luxury brands category in your city. There is currently 1 Hugo Boss catalogue on Tiendeo. Browse the latest Hugo Boss catalogue "Holiday Sale Up To 40% Off" valid from from 29/11 to until 10/12 and start saving now!
Find Hugo Boss catalogues in your city
Hugo Boss, all the offers at your fingertips
Hugo Boss specialises in high-end fashion and fragrances for men and women. If you enjoy luxury distinction then this is the store for you. See the Hugo Boss catalogue for details.
About Hugo Boss
Hugo Boss is an international fashion brand that specialises in catering for select men and women featuring their range of apparel, fragrances and their brands including Boss Orange, Boss Green, Hugo and Boss. Hugo Boss clothing is a favourite amongst many shoppers who appreciate attention to fine detail and finesse all over the world. Hugo Boss shoes and Hugo Boss shirts are popular items in the range and they also feature a wedding selection for men as well as women to choose from. See the Hugo Boss catalogue for money saving deals and product details. Hugo Boss South Africa caters for shoppers in SA and their branches can be found in high-end shopping malls, use the store locator to find your nearest store.
The origins of Hugo Boss
Hugo Boss began its journey in Germany during 1924 by Hugo Ferdinand Boss and in the beginning was mainly focused on manufacturing tailored uniforms. After a long while during 1948, Hugo decided to focus on creating men's suits rather than uniforms and thus Hugo Boss suits came about, and during 1985 their Hugo Boss cologne line was created. Today the designer brand can be found throughout the world.
Get high-end international fashion with Hugo Boss
Hugo Boss is a German fashion brand that since its inception have been dedicated to creating fine clothes, accessories and Hugo Boss perfume to name a few. Hugo Boss also features gift sets to spoil your special someone hence gifts for men and women as well as kids. Hugo Boss South Africa stores can be found via the store locator and you can also shop via their online store stockists whether you're looking for Hugo Boss watches or Hugo Boss suits then you can be certain to find it at Hugo Boss www.hugoboss.com/home
See the Hugo Boss catalogue for special deals and for details about products.
As a whole, the company is also focused on sustainability when it comes to the environment, employees, products, communities and partners. Use the website to read up on great fashion stories and for those looking to join the team you can search for careers on the website.