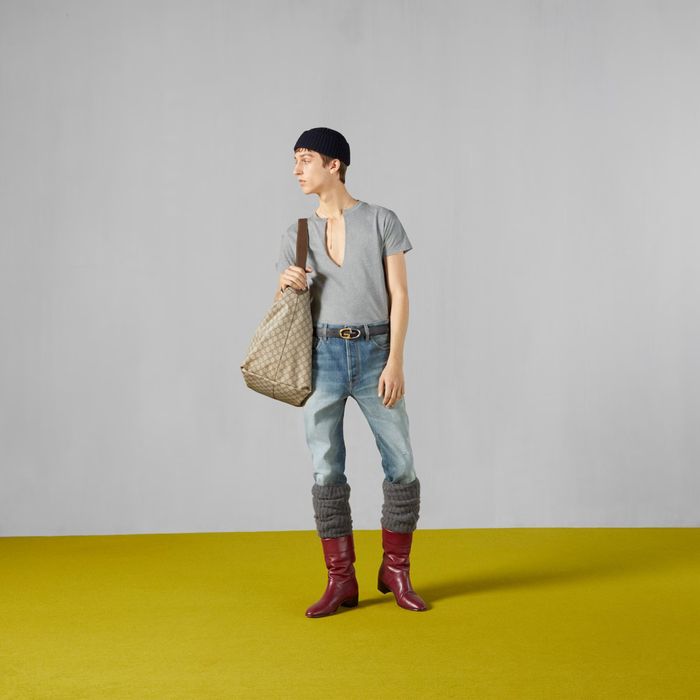 Men's Clothing Collection
Looking for the best Gucci offers
If you are looking for the biggest Gucci discounts you are in the right place. Here on Tiendeo, we have all the catalogues so you won't miss out on any online promotions from Gucci or any other shops in the Luxury brands category in your city. There are currently 2 Gucci catalogues on Tiendeo. Browse the latest Gucci catalogue "Men's Clothing Collection" valid from from 14/9 to until 14/12 and start saving now!
Find Gucci catalogues in your city
Gucci, all the offers at your fingertips
Gucci is an Italian luxury fashion brand dedicated to exquisite in-season style suited to al occasions. See the Gucci catalogue for special deals and product details.
About Gucci
Gucci is a leading international brand dedicated to finding shoppers the best in fine Italian fashion whether you're looking for apparel, or whether it be accessories such as Gucci bags, Gucci sneakers and accessories to name a few. Gucci shopping categories include children (baby, girls, boys), men and women which also include ready-to-wear and collection ranged. Gucci shoes price can vary but features a beautiful range for every occasion for men, women and kids and you can purchase the Gucci runway range which is their in-season fashion as well as jewellery and beauty products.
Have a look at the Gucci catalogue for details and for more information and promotions. You can find Gucci stores located all over the world including in South Africa like Gucci Cape Town and Gucci Johannesburg to name a few.
The origins of Gucci
Gucci was established during 1921 in Florence Italy when it became one of the leading in quality leather goods, clothing and fashion. Founder Guccio Gucci was an immigrant from Italy working at a hotel in Paris and became intrigued by the beauty of leather goods. When he returned to Italy he established a leather goods manufacturing company that specialised in creating fine leather products. Later the company expanded and with his three sons onboard, they opened stores in Milan, Rome and Florence. The Gucci Group is owned by the French holding company Kering.
Get great leather goods and fashion at Gucci
Gucci is an Italian brand featuring stores all over the world including Gucci South Africa and the company is specialised in creating fine leather product and beautiful clothes and footwear for the whole family. Gucci caps prices South Africa can be seen via the Gucci online store or you can contact a store near you for more information https://www.gucci.com/int/en/
You can see the local Gucci Sandton catalogue of the company catalogue for product prices and details.
In 2005 Gucci has partnered with UNICEF and since then a portion of the proceedings (especially designed for UNICEF) and goes towards education, clean water and healthcare for AIDS/HIV. The Gucci Chime for Change campaign is dedicated to empowering women and has successfully funded 210 projects through 81 countries with the Chime for Change initiative. The company is also dedicated to environmental protection by decreasing their carbon footprint and implementing eco-friendly solutions. When it comes to their staff, they put the needs of their employees at top priority.