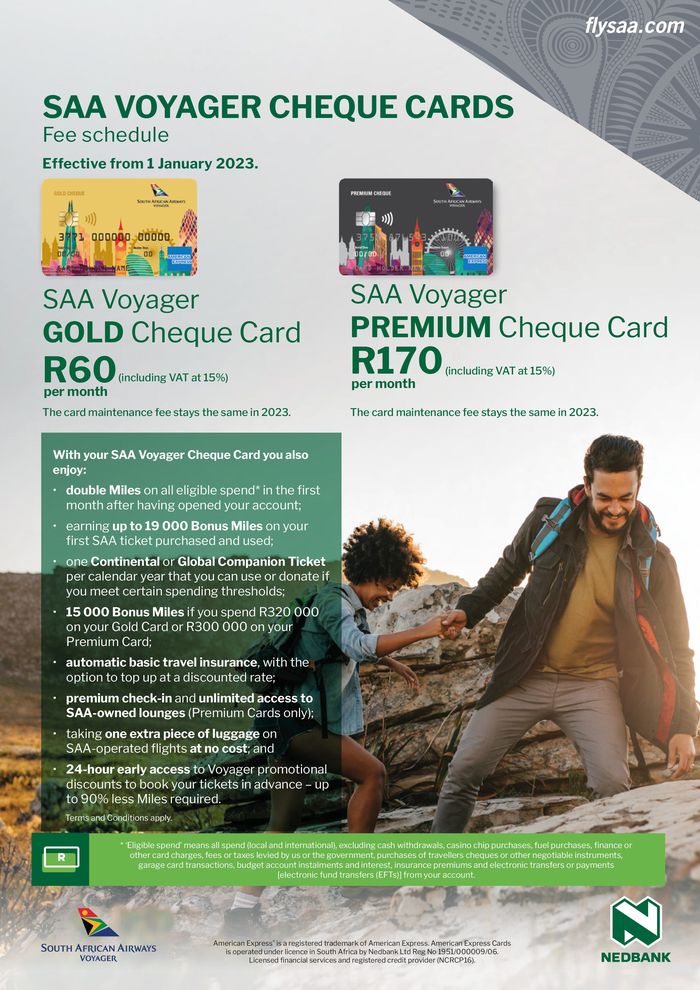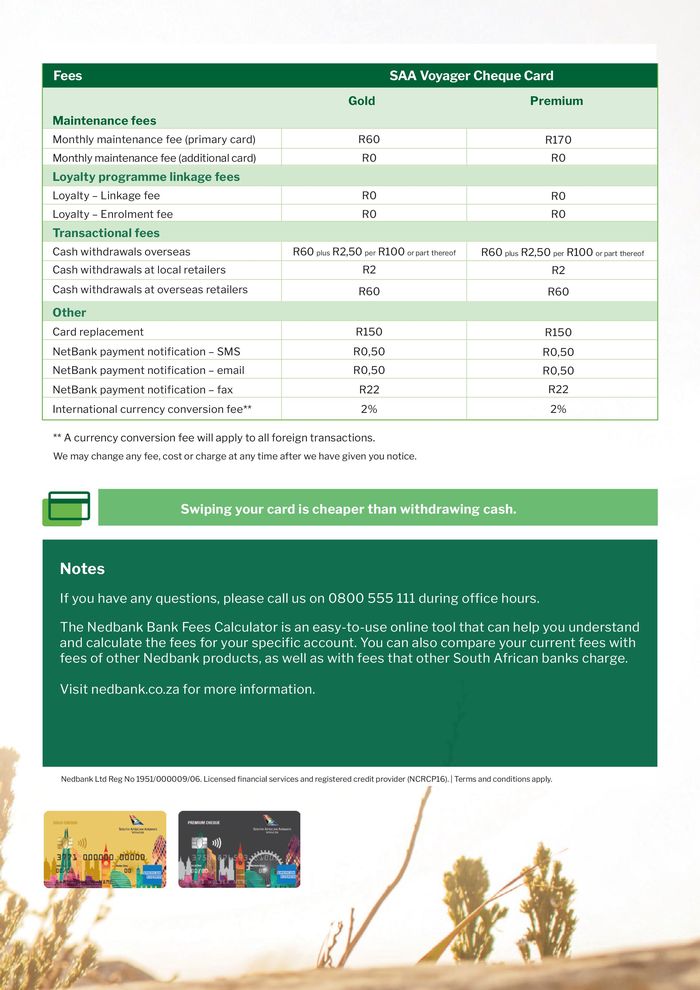 Saa voyager cheque card pricing
Looking for the best Nedbank offers
If you are looking for the biggest Nedbank discounts you are in the right place. Here on Tiendeo, we have all the catalogues so you won't miss out on any online promotions from Nedbank or any other shops in the Banks & Insurances category in your city. There are currently 5 Nedbank catalogues on Tiendeo. Browse the latest Nedbank catalogue "Saa voyager cheque card pricing" valid from from 30/10 to until 31/12 and start saving now!
Find Nedbank catalogues in your city
Nedbank, all the offers at your fingertips
Nedbank is one of the oldest and a favourite amongst many South Africans for banking and financial solutions. Have a browse through the Nedbank catalogue for details.
About Nedbank
Nedbank is one of the popular choices when it comes to banking solutions for personal and business banking. You can apply for Nedbank personal loans which can assist you with various financial needs like paying for your wedding, going on holiday, or even as working capital for a small business. For convenience you can use the Nedbank internet banking facility to do your banking conveniently even from the comfort of your home. Get in touch with the Nedbank personnel via the Nedbank contact details to enquire about any information. Browse through the Nedbank catalogue for details as well as products and services available. You'll find Nedbank branches throughout South Africa see the branch locator to find one nearest to you.
The origins of Nedbank
Nedbank was first established in the 1800's in Amsterdam Netherlands at the time known as Nederlandsche Bank en Credietvereeniging voor Zuid-Afrika which translates to Dutch Bank and Credit Union for South Africa. The bank later underwent changes in the name to suit their operations. After the bank split in the 1950's more and more South African shareholders bought into the bank and by 1969 the bank became wholly owned by South Africans. There are Nedbank branches located all over South Africa.
Get excellent banking solutions with Nedbank
Nedbank is your solution to excellent banking whether you're looking for a Nedbank loan to assist you with various like starting a small business, paying for a wedding, buying a car or simply to spoil yourself on a much deserved holiday, you can with Nedbank. With Nedbank mobi and the Nedbank app, you can stay ahead with all your banking even whilst you're on the go as these are suited to your mobile phone and tablet devices.
Join the Nedbank team if you're looking for a great career, you can contact them via the Nedbank contact details that you will find on their website. Nedbank customer service can assist you with all your enquiries whether you wish to apply for a loan, open a Nedbank account or looking for information about the bank's services and how it can suit your needs as an individual or business.