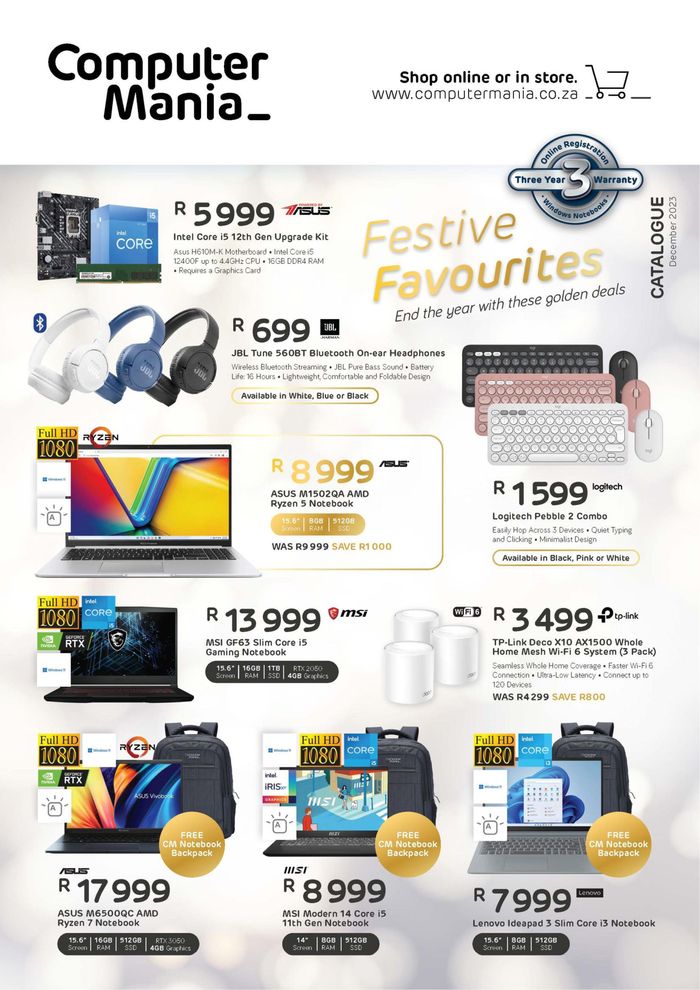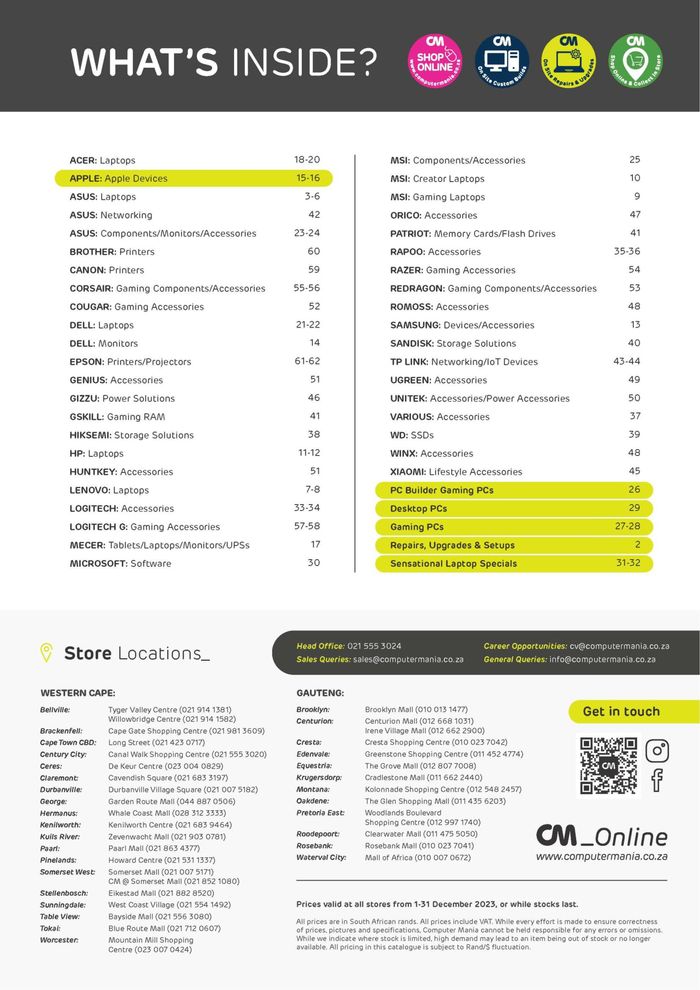 December Festive Promotions
PEP CELL

Let's go Ke Dezemba

Builders

Summer Décor and Lighting Ranges

Builders

Smart Home Security
Looking for the best Computer Mania offers
If you are looking for the biggest Computer Mania discounts you are in the right place. Here on Tiendeo, we have all the catalogues so you won't miss out on any online promotions from Computer Mania or any other shops in the Electronics & Home Appliances category in your city. There is currently 1 Computer Mania catalogue on Tiendeo. Browse the latest Computer Mania catalogue "December Festive Promotions" valid from from 3/12 to until 31/12 and start saving now!
Find Computer Mania catalogues in your city
Computer Mania, all the offers at your fingertips
Get all your computerware, software, hardware and computer accessories at Computer Mania. For a sale and chance to save on selected items, see the Computer Mania catalogue.
About Computer Mania
Computer Mania is dedicated to providing customers with a wide selection of computer supplies whether building a computer from scratch or one that is ready to use. Computer Mania computers are available in various well known brands like Dell, HP, Asus, Acer, Lenovo, Toshiba and Proline. Computer Mania products are available in many well known brands and caters for your every computer need from external and internal storage, RAM, accessories, gaming items like (keyboards, mouse, headsets), as well as software and lots more. See the Computer Mania catalogue fro the latest specials and new arrivals.
There are several Computer Mania stores throughout the Western Cape and Gauteng and customers can either choose to visit a store near them or simply utilise the convenient Computer Mania online shopping and get all their items from the comfort of their home. Popular branches include Computer Mania The Glen shopping centre, Woodlands Boulevard, N1 City as well as Tygervalley, Canal Walk and branches in Ceres and Worcester.
The origins of Computer Mania
Computer Mania was established in 1991 and in those days not many people had their own home PC's. The company had a vision of providing the public with affordable computer prices and parts to build their own one. The vision is to become the leading alternatitive information technology retailer in South Africa. The company prides itself at maintaining their core values of "Accountability", Communication", Fairness & integrity", "Human Relationship", and "Innovation". Computer Mania continues to grow from strength to strength with branches throughout the Western Cape and several emerging in Gauteng.
For your one stop computer equipment and accessories, get to Computer Mania
Computer Mania is fast becoming a favourite amongst many local shoppers because of their great prices and extensive variety of items to meet all your computer needs. There are often Computer Mania specials happening and thus customers can make use of the Computer Mania catalogue available on the company website or via Tiendeo and view some great deals on selected items. Computer Mania's Cyber Sunday specials allow shoppers another chance to save on selected items (terms and conditions apply).
Computer Mania also has great franchise opportunities for fellow computer lovers looking to invest and be part of the successful and ever-growing business initiative. The company is dedicated to bringing affordability to all customers and endeavour to stay ahead with the latest technology and IT trends. Visit a store near you or simply browse the Computer Mania website and start saving on your next purchases.