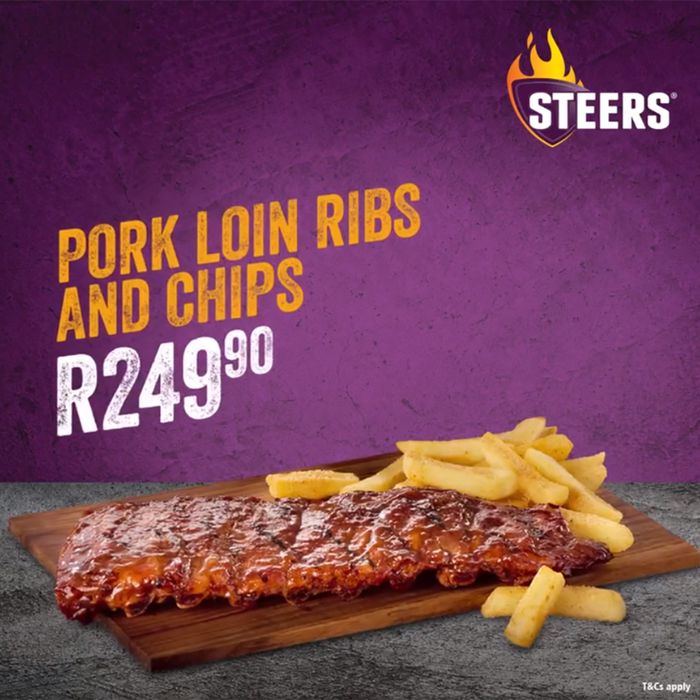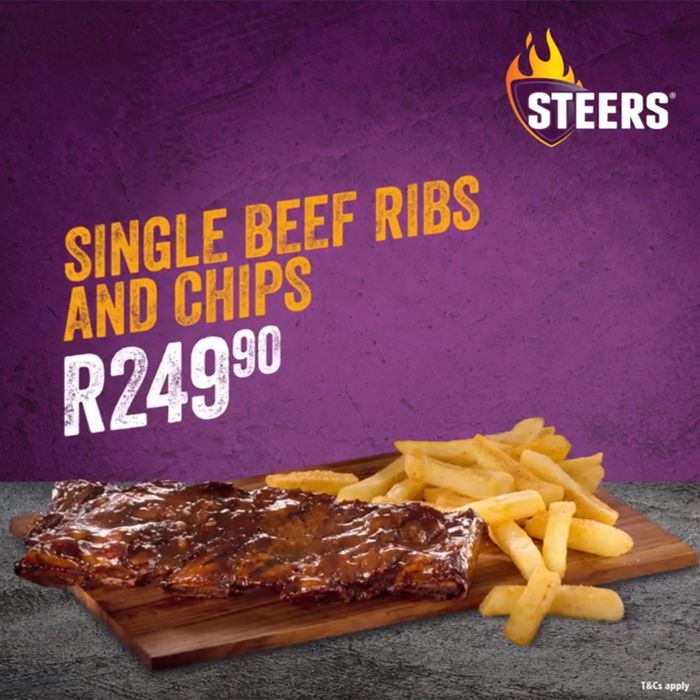 Promotions Ribs for R 249.90
Looking for the best Steers offers
If you are looking for the biggest Steers discounts you are in the right place. Here on Tiendeo, we have all the catalogues so you won't miss out on any online promotions from Steers or any other shops in the Restaurants category in your city. There is currently 1 Steers catalogue on Tiendeo. Browse the latest Steers catalogue "Promotions Ribs for R 249.90" valid from from 30/11 to until 31/12 and start saving now!
Find Steers catalogues in your city
Steers, all the offers at your fingertips
Steers brings you sizzling, mouth-watering burgers and lots more flame grilled delicious meals whether you're looking for a hunger-busting meal or something light and yummy. See the Steers catalogue for specials.
About Steers
Steers is the place to go if you want a great tasting flame grilled burger packed with flavour and wholesome goodness. The Steers menu has something suited to everybody's taste ranging from flame grilled chicken, chips and salads, to burgers, sodas, kids meals, ribs and desserts. There are always Steers specials and offers available like the Wacky Wednesday Steers deal available exclusively on Wednesdays where customers get 2 burgers for a low price (contact stores for details). There are several Steers branches located throughout the country but for even more convenience Steers delivery service allows you to order your meals from the comfort of your own home. Get the latest specials and tasty deals to save you money, view the Steers catalogue for more.
The origins of Steers
The ever popular Steers began its journey in 1970 when the very first store was opened by Founder George Halamandaris' son. The store was located in the iconic Jeppestown Johannesburg, South Africa. In 1983, the Steers brand began a franchise program and only 10 years after opening, the company had already grown to 250 stores nationwide. Steers have also been awarded with the Leisure Options Award for Best Burger for 18 years in a row as well as the Best Chips for 14 years running. Today Steers boasts over 545 restaurants spanning from South Africa, through to Mauritius, Zambia and Nigeria, as well as the very first Steers in the UK having opened its doors in 2013.
Get to Steers for a great tasting meal
Hungry for a great tasting meal? Want something flame grilled and scrumptious with every bite? Hurry on and get to a Steers near you and fill your stomach with flavour goodness packed in every meal. Steers specials can be found on a regular basis ranging from specials like the Wacky Wednesday Steers deal, the Get Real Cheese Burger Combo and lots more value for your money meals. Steers is a favourite amongst many locals as well as international customers and if you can't get to a branch near you, then simply make use of the Steers online order facility and get your Steers delivery sent to your address.
Steers is in proud partnership with the Let's Play initiative that promoted the largest physical education challenge which reached 403,000 children aged 10 from 477 primary schools in 2015, and continues the annual event with great prizes awarded to winning schools. Steers also actively sponsors Varsity Sports. Don't miss more great deals and continue enjoying Steer's great meals - view a Steers catalogue for fantastic promotions.