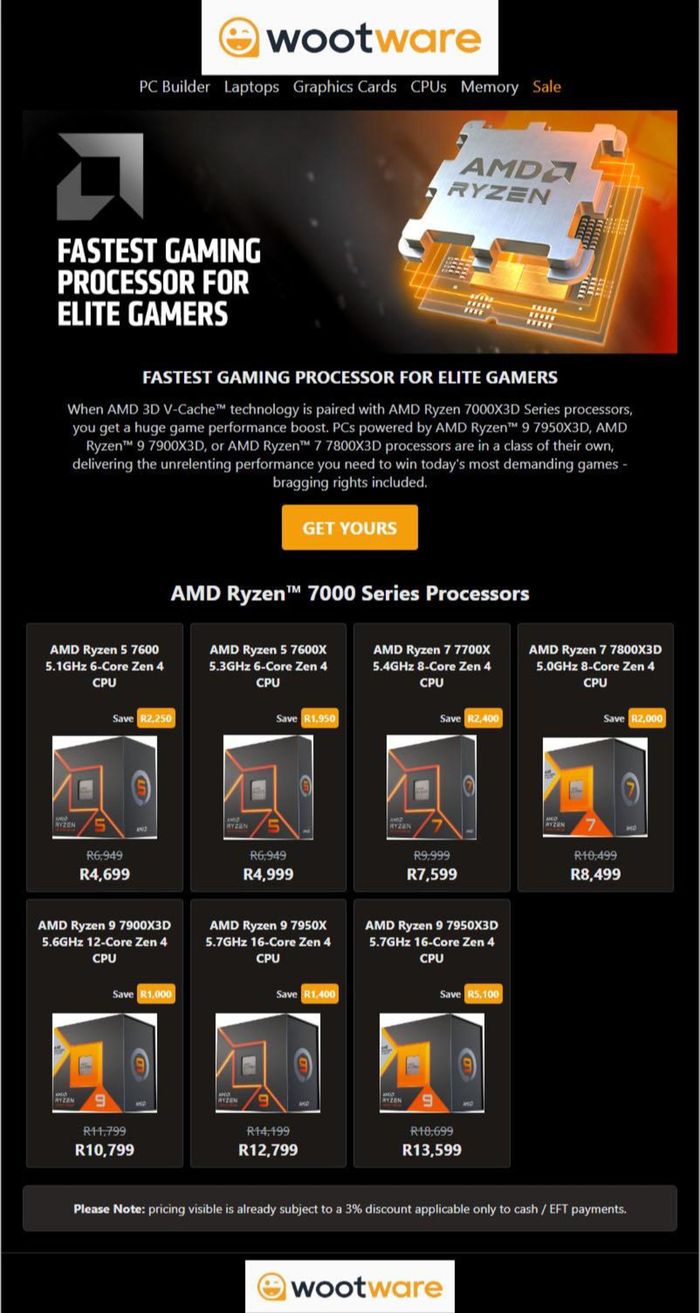 Gaming Processor For Elite
PEP CELL

Let's go Ke Dezemba

Builders

Summer Décor and Lighting Ranges

Builders

Smart Home Security
Looking for the best Wootware offers
If you are looking for the biggest Wootware discounts you are in the right place. Here on Tiendeo, we have all the catalogues so you won't miss out on any online promotions from Wootware or any other shops in the Electronics & Home Appliances category in your city. There is currently 1 Wootware catalogue on Tiendeo. Browse the latest Wootware catalogue "Gaming Processor For Elite" valid from from 6/12 to until 31/12 and start saving now!
Wootware, all the offers at your fingertips
Wootware is your one-stop to all you need when it comes to computer parts, software and accessories. Have a browse through the Wootware catalogue for special deals.
About Wootware
Wootware is a convenient online computer stores that specialises in all things PC's whether you want to build-up a gaming or high performance PC from scratch, or you're looking to buy a laptop, or PC components, accessories, screens, speakers, keyboards, memory devices and more. Wootware also sells networking solutions such as modems. With the Wootware Black Friday sale you can snatch up various deals, but you ought to confirm with the company. For a chance to enjoy saving son other selected items during the months, just see the latest Wootware catalogue for specials. You can find excellent brands at Wootware such as Gigabyte, Lenovo, Dell, MSI, CoolerMaster, Intel, D-Link, TP-Link, Logitech, Microsoft and Targus to name just a few. Go on and get a great gaming PC South Africa at Wootware.
The origins of Wootware
Wootware began its journey in 2007, Wootware has been dedicated to bringing its shoppers excellent deals and customizable PC's and state-of-the-art IT related products. The name comes from the term "root" which is a hacker term for administrative access to a computer. The company always aims to increase customer satisfaction while minimizing on the costs. See the Wootware contact details online via their website and contact them directly with queries. The main headquarters is located in Somerset West, Cape Town.
Get great computer deals from Wootware
Wootware is home to all you need in computer parts and whether you'd like to build a PC from scratch or if you're looking to purchase from a wide range of ready to use laptops or desk top computers, you'll find what you need at Wootware. Due to the fact that Wootware is an online store, shoppers get to enjoy their shopping from the comfort of their home or office with the secure shopping and payment platforms. Wootware can be considered as one of the best PC online stores in South Africa, and you can shop from a variety of trusted brands like Dell, Logitec, MSI, Lenovo, Intel, Gigabyte, Asus, Phanteks, Corsair, Thermaltake, Lian-Li, D-Link and TP-Link to name just a few. See the Wootware catalogue for details and specials on selected items.