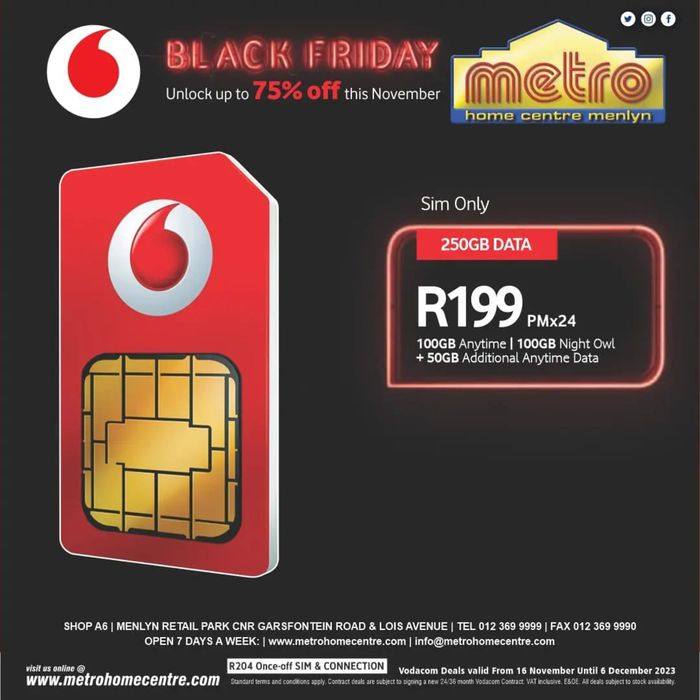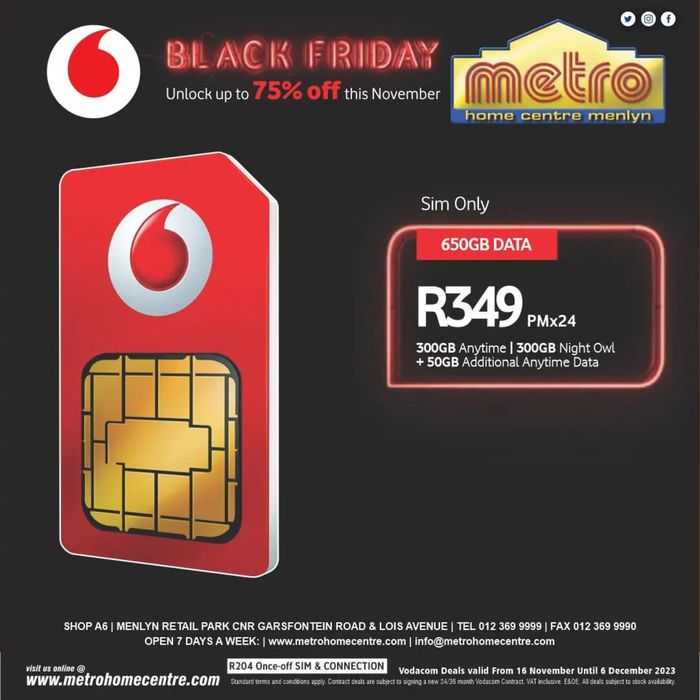 Black Friday 75% Off November
Looking for the best Metro Home Centre offers
If you are looking for the biggest Metro Home Centre discounts you are in the right place. Here on Tiendeo, we have all the catalogues so you won't miss out on any online promotions from Metro Home Centre or any other shops in the Electronics & Home Appliances category in your city. There are currently 2 Metro Home Centre catalogues on Tiendeo. Browse the latest Metro Home Centre catalogue "Black Friday 75% Off November" valid from from 21/11 to until 6/12 and start saving now!
Find Metro Home Centre catalogues in your city
Metro Home Centre, all the offers at your fingertips
Metro Home Centre is your leading stop for home improvement supplies, electronics, furniture, clothing and so much more under one roof. See the Metro Home Centre catalogue for money saving deals.
About Metro Home Centre
Metro Home Centre is a leading destination for a comprehensive supply of homeware & décor products, electrical appliances, audio, lighting and a range of clothing items for the entire family. Due to the store featuring so many great products, you can use the Metro Hyper catalogue to ensure that you're getting excellent money saving specials on your next purchase at the store. Metro Home furniture is available in a large range such as beds, dining suites, headboards, as well as office furniture such as work desks and chairs to name a few. Metro Home Centre comes from roots that specialise in fabrics, so Metro fabrics are needless to say manufactured with excellent quality attention to detail and still very affordable. With Metro Home Centre online store you can enjoy shopping for quality items over a large variety all from the comfort of your home.
The origins of Metro Home Centre
Metro Home Centre is a South African company that has been in operations since before the 1950's with the main focus then being textiles. It was during the 1970's that Metro Home Centre was founded when company owners decided to merge all their other stores trading in various to bring shoppers a large selection of products all under one roof. The company's main base is in Menlyn South Africa and has an excellent online store so you can shop from anywhere in South Africa and get the goods you want from the comfort of your home.
Get all you need under one roof at Metro Home Centre
Metro Home Centre is a comprehensive destination for all you need whether you're sprucing up your home décor, looking for quality furniture, audio, appliances and clothing to name a few, this is the store to visit. Metro Home fabrics is one of the company's main features, having been the company's first products ever sold back in the very begining. So when it comes to textiles like linen and curtains you can be sure you're getting the best. Metro Home furniture is over an extensive range so you can have a good look at what you need and because the company mainly operates via the Metro Home Fabrics online store shoppers get to enjoy their shopping from the comfort of their home. Enjoy a safe online shopping experience and easy payment and delivery option plus great money saving specials in the Metro Hyper catalogue.