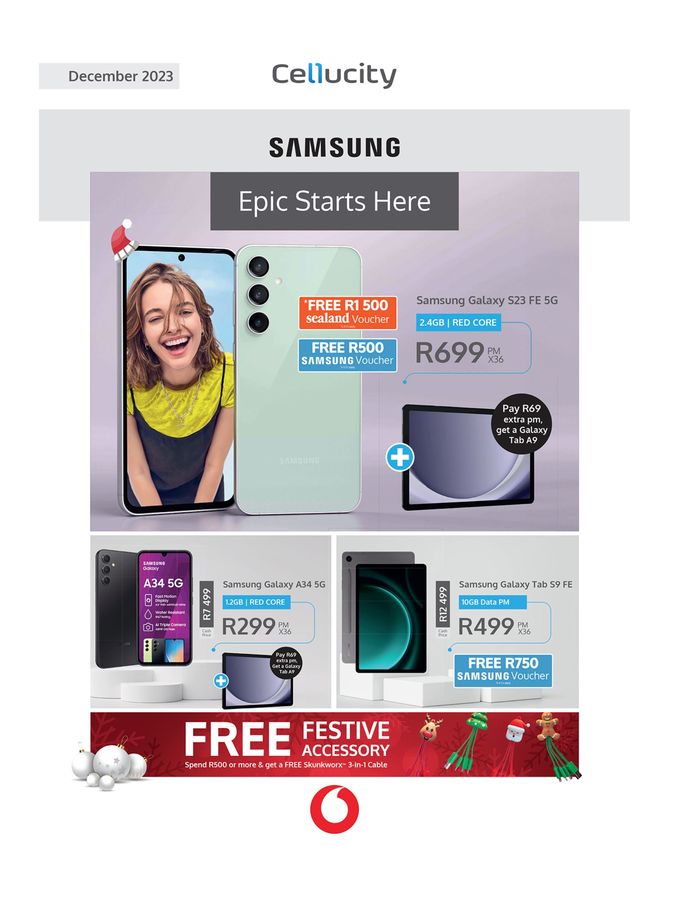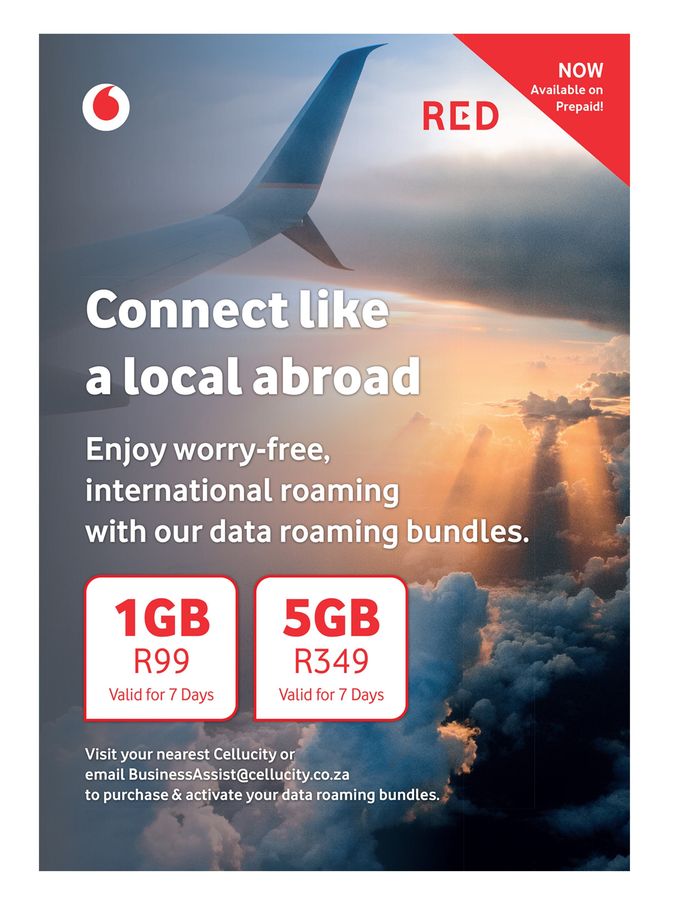 Cellucity December Business 2023
PEP CELL

Let's go Ke Dezemba

Builders

Summer Décor and Lighting Ranges

Builders

Smart Home Security
Looking for the best Cellucity offers
If you are looking for the biggest Cellucity discounts you are in the right place. Here on Tiendeo, we have all the catalogues so you won't miss out on any online promotions from Cellucity or any other shops in the Electronics & Home Appliances category in your city. There are currently 2 Cellucity catalogues on Tiendeo. Browse the latest Cellucity catalogue "Cellucity December Business 2023" valid from from 6/12 to until 7/1 and start saving now!
Find Cellucity catalogues in your city
Cellucity, all the offers at your fingertips
Get smart gadgets, mobile phones, smart devices and so much more at Cellucity. It is your one-stop-shop for all you need in mobile communication and more. See the Cellucity catalogue for specials.
About Cellucity
Cellucity is a leading mobile phone retailer that is focused on innovation, service and support as well as a large variety of smart devices, gadgets and accessories to suit you on the go lifestyle. Cellucity phones include the likes of Samsung, Huawei, CAT, Sony and gadget brands like Kodak and Plantronics to name a few. Cellucity specials are available throughout the year, and to get details on what deals there are make sure that you have a look at the latest Cellucity catalogue to save on your purchases. There are cellucity branches located all over South Africa, some include Cellucity Canal Walk, Cellucity Cavendish, and Cellucity N1 City, as well as branches within the other provinces in SA.
The origins of Cellucity
Cellucity has been a division of Vodacom, one of South Africa's leading mobile network service providers for more than 20 years. The brand is Vodacom's independent mobile retailer that specialises in all things related to smart mobile devices, new innovation in technology and accessories for your mobile devices. One of Cellucity's main focuses that has also made them stand out and grow as an independent brand is the fact that all the staff are trained to go the extra mile for customers and to help them make the best choice in products that will suit their needs. Cellucity South Africa focuses on innovation and keeps up-to-date with the latest in technology, as well as excellence in customer support.
Get great prices on your smart phone accessories and more at Cellucity
Cellucity is not only known for being part of one of South Africa's top mobile service network providers, but also afford customers a wide gateway to all things related to the latest smart devices, phones, tablets and accessories like bluetooth speakers, power-banks and so much more. Here you can shop from a variety of leading international brands such as Apple, Skunkworx, Samsung and CAT to name a few. There are branches located throughout South Africa and there is also the Cellucity online shopping facility that allows for a great shopping experience from the comfort of your home. View the Cellucity website to read up on the latest news in technology innovation and much more. Customers can also pre-order items, and choose payment terms for mobile devices as a Cellucity contract deal or pre-paid deal.