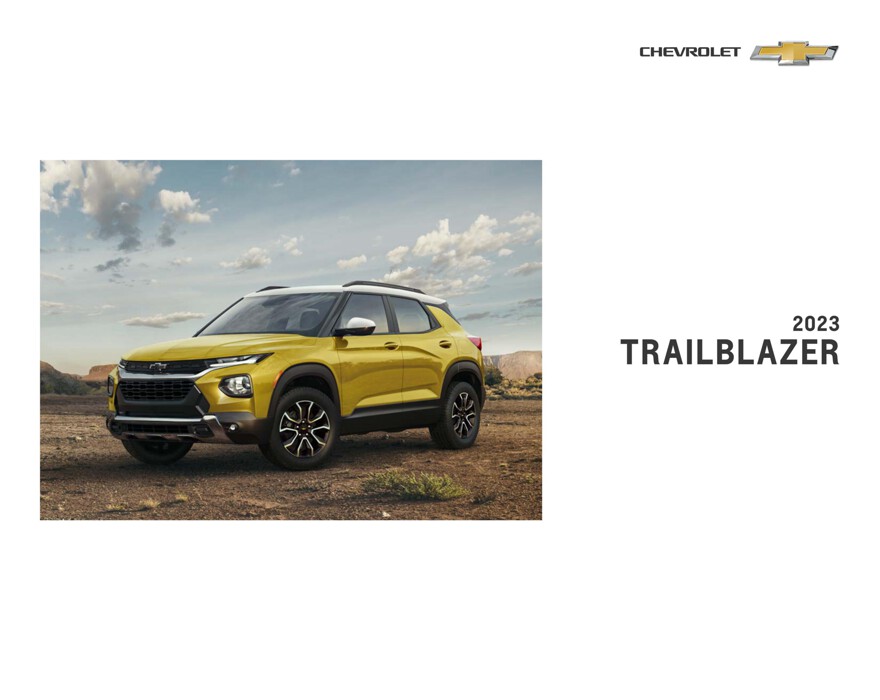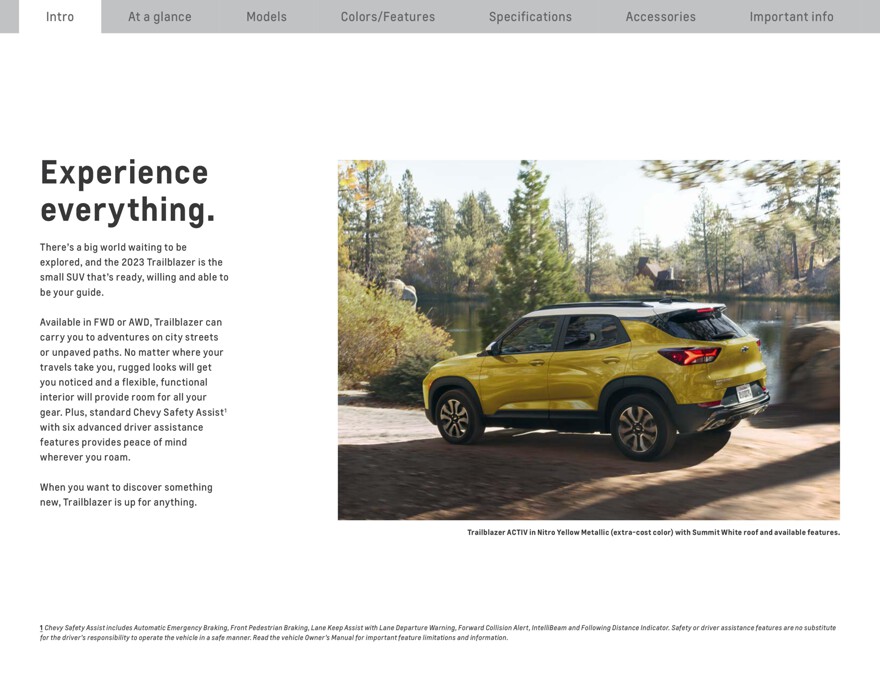 2023 chevrolet trailblazer
Leroy Merlin

So much sparkle this Christmas

Leroy Merlin

The Perfect Way to Entertain
Looking for the best Chevrolet offers
If you are looking for the biggest Chevrolet discounts you are in the right place. Here on Tiendeo, we have all the catalogues so you won't miss out on any online promotions from Chevrolet or any other shops in the Cars, Motorcycles & Spares category in your city. There are currently 5 Chevrolet catalogues on Tiendeo. Browse the latest Chevrolet catalogue "2023 chevrolet trailblazer" valid from from 18/12 to until 20/12 and start saving now!
Find Chevrolet catalogues in your city
Chevrolet, all the offers at your fingertips
Chevrolet brings you American engineering at its best featuring all from family road cars, to SUVs, muscle and sports vehicles. See the Chevrolet catalogue for specials.
About Chevrolet
Chevrolet is a well known American car manufacturer knownd for their muscle cars namely the Chevrolet Camaro and Corvette, as well as their SUV's like the Chevrolet Captiva or the 4X4 Trailblazer. Chevrolet also produces excellent city cars such as the affordable Chev Spark and the popular family Chevrolet Cruze.
Whether you're looking for a Chevrolet bakkie for sale in South Africa, a Chevrolet Aveo sedan, Chevrolet SS Lumina or a Chevrolet Utility for sale, you can find both used and new vehicles via the company's dealerships. Search for dealerships nationwide and use the Chevrolet catalogue for any special deals.
The origins of Chevrolet
Chevrolet began its journey in 1911 and was founded by Louis Chevrolet an Swiss-American car racing driver and William Durant an icon in the American car industry. Since the pioneering car manufacturer was born from a love of cars and all things related to the motoring industry, its no wonder Chevrolet is loved and enjoyed by many of its customers throughout the world with operations in North America, South America Japan, India, Middle East, Australia, Europe and Chevrolet South Africa.
Get great motorvehicels with Chevrolet
American car manufacturer Chevrolet have long been trusted and loved by its customers throughout the world as it is popular for American muscle as well as family sedans, sports utility vehicles and light commercial vehicles like the Chevrolet bakkie which is often seen on SA roads. To find used or new Chevrolets simply locate your nearest dealership where you'll find Chevrolet bakkie for sale, Chevrolet Cruze, Chevrolet Aveo hatchback and simply various Chevrolet cars that could suit your lifestyle and needs.
You can check out the complete care package via the Chevrolet website which includes roadside assistance, ownership & servicing, booking a service, warranty and recall. You can also get assistance to help you choose your ideal one out of the many Chevrolet cars, book a test drive or request a quote. Have a look at the latest Chevrolet catalogue for special deals when you purchase your next vehicle.