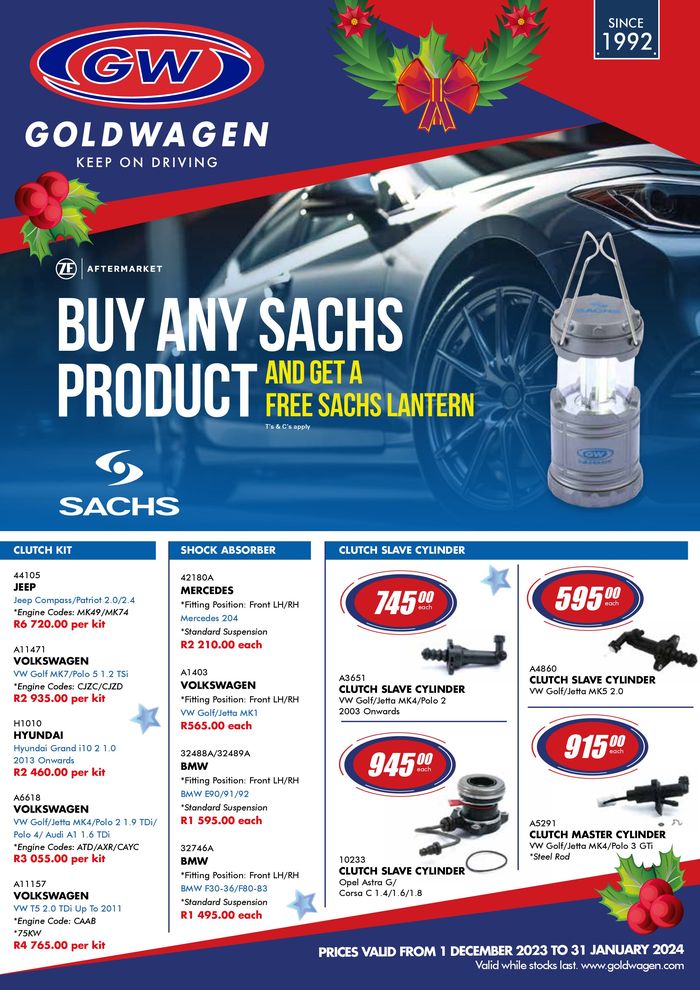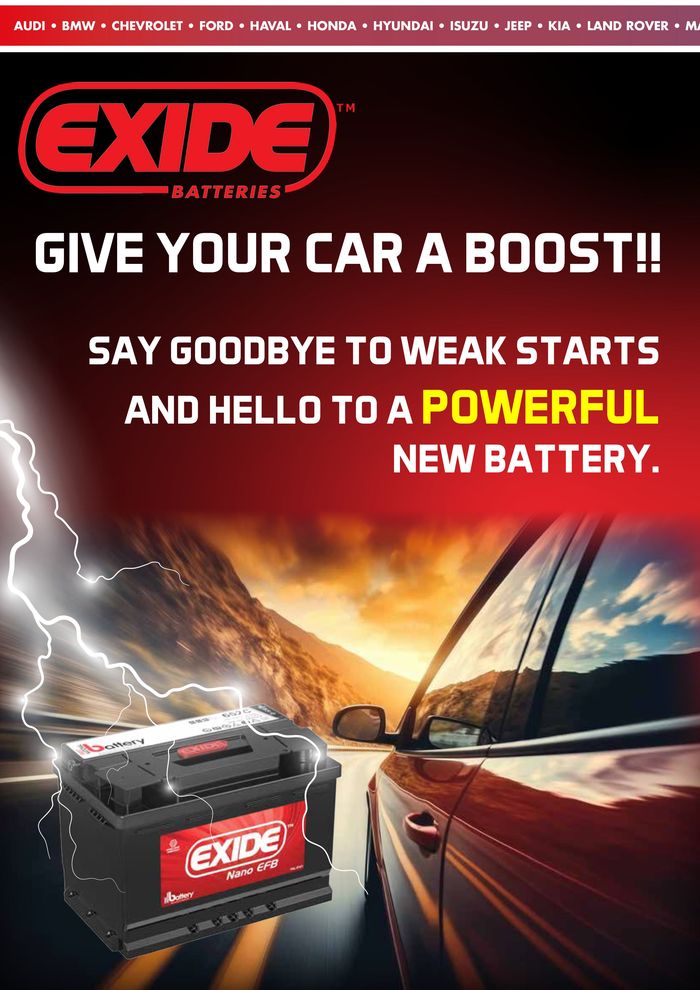 December - January Promotions
Leroy Merlin

So much sparkle this Christmas

Leroy Merlin

The Perfect Way to Entertain
Looking for the best Goldwagen offers
If you are looking for the biggest Goldwagen discounts you are in the right place. Here on Tiendeo, we have all the catalogues so you won't miss out on any online promotions from Goldwagen or any other shops in the Cars, Motorcycles & Spares category in your city. There is currently 1 Goldwagen catalogue on Tiendeo. Browse the latest Goldwagen catalogue "December - January Promotions" valid from from 30/11 to until 31/1 and start saving now!
Find Goldwagen catalogues in your city
Goldwagen, all the offers at your fingertips
Goldwagen specialises in quality, affordable replacement car spares and parts from well trusted brands. Check out the Goldwagen catalogue for your opportunity to save with specials deals.
About Goldwagen
Goldwagen affords shoppers excellent, quality car spares without compromising on the quality. Here customers will find an assortment of leading brands and Goldwagen products like Monroe, LUK, Bendix, Bremi, SKF, and Beru to name a few. Car manufacturing brands that the company specialises in include Opel, BMW, Renault, Ford, Mazda, Mecedes-Benz, Mini, Toyota and Chevrolet. There are Goldwagen branches located throughout South Africa, some major ones include Goldwagen Kempton Park, Goldwagen Silverton, Goldwagen Midrand, Goldwagen Edenvale and Goldwagen Claremont to name a few. To save on your next trip to a Goldenwagen near you, view the Goldenwagen catalogue and enjoy excellent specials.
The origins of Goldwagen
Goldwagen was established in 1992 by Tony Pattichides and Joao De Costa who founded their used car dealer spare parts business starting off with VW spares. In the beginning the business only had a few dismantled vehicles with spare parts available, pretty soon running out of spares from accident damaged vehicles, the pair decided to venture into importing spares from international car manufacturers, which was a difficult task to accomplish in Africa at the time. However, this did not deter them, but only helped them to become even more goal driven and focused on making their company a success. In 1995, the business opened its second store and had more than 500 line items on hand. Today Goldwagen branches can be found throughout South Africa.
Get quality brands in car replacement parts at Goldenwagen
Goldwagen has been known for its great and comprehensive range of quality brand car spares that Goldwagen specialises in are suited to vehicles such as Mercedes-Benz, Mini BMW, Audi, Chevrolet, Toyota, Mazda, Ford, Renault, and VW. Finding your nearest Goldwagen branches is a simple few clicks of a button via their website, or you can choose to call directly and speak to one of the Goldwagen consultants for information. All of Golwagen spares are of high-grade quality and features trusted brands in the industry without skipping on quality. Sign up for the Bilstein Newsletter available every second month and is packed with the latest in motoring news, events and more related to Bilstein. For those looking to make an even longer-term investment into the company, then owning a Goldwagen franchise is a perfect option.