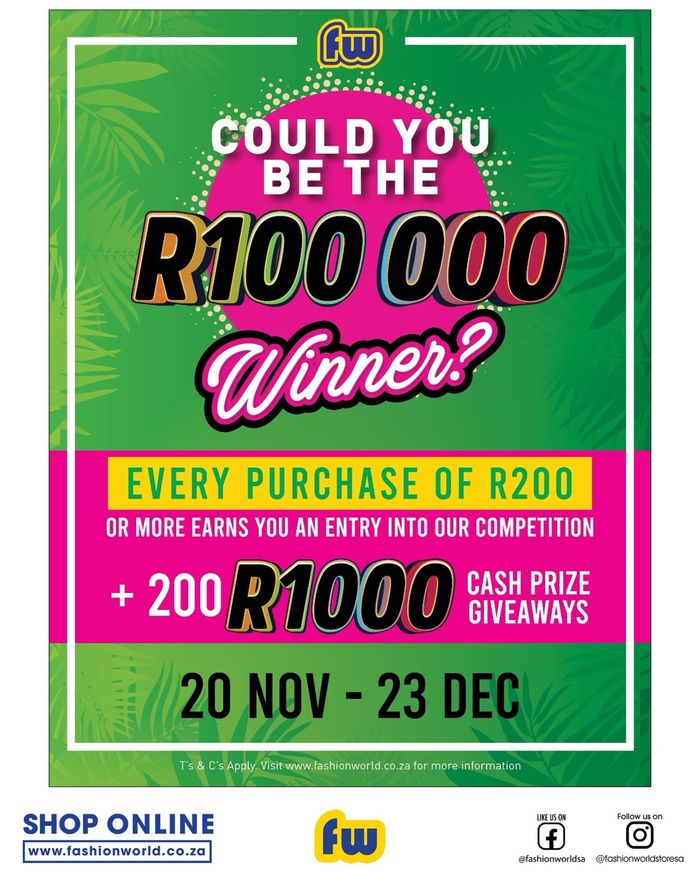 Could You Be The R100 000 Winner ?

Looking for the best Fashion World offers
If you are looking for the biggest Fashion World discounts you are in the right place. Here on Tiendeo, we have all the catalogues so you won't miss out on any online promotions from Fashion World or any other shops in the Clothes, Shoes & Accessories category in your city. There is currently 1 Fashion World catalogue on Tiendeo. Browse the latest Fashion World catalogue "Could You Be The R100 000 Winner ?" valid from from 20/11 to until 23/12 and start saving now!
Find Fashion World catalogues in your city
Fashion World, all the offers at your fingertips
Fashion World keeps customers looking their stylish best at low affordable prices, without compromising on great quality womenswear. See the Fashion World catalogue and start saving.
About Fashion World
Fashion World is a South African women's clothing retailer, supplying customers with on-trend fashion clothes at affordable prices. You don't have to be a fashion trend-setter to shop for amazing womenswear, at Fashion World, you'll find a variety of top-quality manufactured clothes at market competitive prices. Fashion World shoes has proven to be popular amongst shoppers throughout the years, not only do they remain up-to-date with the latest trends but also of excellent quality. When it comes to Fashion World dresses, you will find all you need even if you're intending on going to a fancy ado. Fashion World has an assortment of dresses for every occasion and available in various sizes.
Fashion World brands include the likes of Judy's Pride, I.Q, Inspire, and Secret Possessions. Thankfully for even more convenience, customers need not search far for the nearest store, because there are Fashion World stores located in many shopping malls across South Africa, and further stretching through to Botswana, Namibia, Swaziland, Mozambique and Zambia.
The origins of Fashion World
Since its establishment, the company has always been dedicated to bringing women the absolute best look with clothing manufactured with high quality materials and still affording lower market competitive prices on items sold in the store. In keeping with the company's motto "smart ways to dress for less" Fashion World stays on top of its game and continues to satisfy all its customers.
Look good for less at fashion World
Fashion World is one of South Africa's favourite women's clothing retail stores because they offer low prices on great looking trends. For great looking Fashion World shoes to pair with your new outfit or some pretty Fashion World dresses for a party, a day out, or simply a formal ado, Fashion World has something tailored to your look.
The company prides itself at living out their core values to uplift and empower communities with various positive initiatives and to" generate employment, wealth and prosperity across the country". Tunnel farming and substance farming as well as material donations go towards the company's efforts to donate towards feeding schemes and cancer intitiatives. Being a proudly South African company, Fashion World is focused and dedicated to giving back to South Africans.