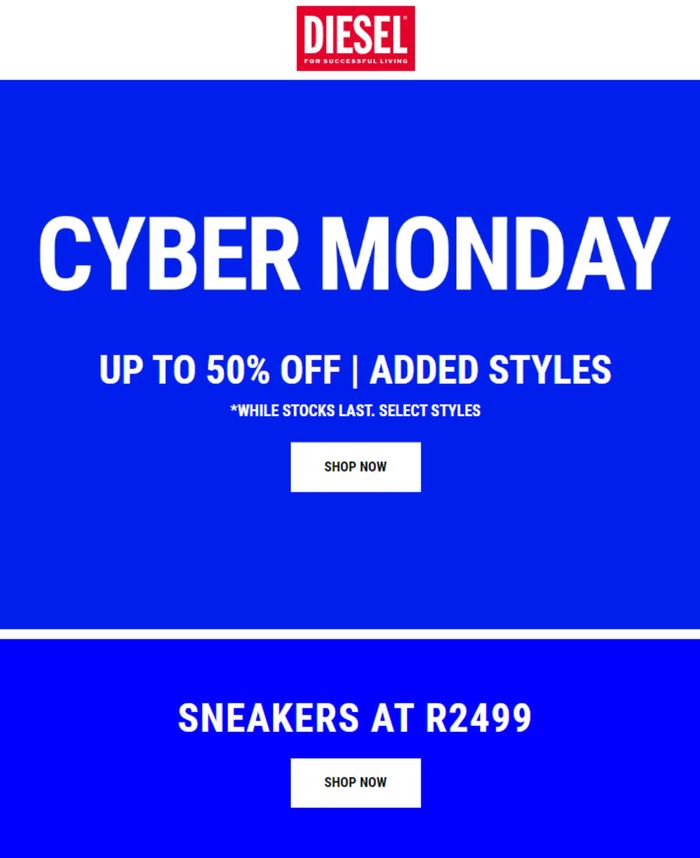 Cyber Monday Up To 50% Off

Looking for the best Diesel offers
If you are looking for the biggest Diesel discounts you are in the right place. Here on Tiendeo, we have all the catalogues so you won't miss out on any online promotions from Diesel or any other shops in the Clothes, Shoes & Accessories category in your city. There are currently 2 Diesel catalogues on Tiendeo. Browse the latest Diesel catalogue "Cyber Monday Up To 50% Off" valid from from 26/11 to until 3/12 and start saving now!
Find Diesel catalogues in your city
Diesel, all the offers at your fingertips
Diesel is a fashion brand known for their hot denim designs for men and women and caters for various cuts, designs and washes. See the Diesel catalogue for details and product promotions.
About Diesel
Diesel is home to a beautiful range of on-trend fashion specialising in denimwear for men and women as well as kids and since its inception the Diesel clothing brand is loved and sought after throughout the world. If you're looking for unique, yet stylish Diesel shoes or even a Diesel clothing sale so you can still get your favourites at an affordable price then this is your store. See the Diesel catalogue for promotions on selected items and product details and step out in conscious style that cannot be resisted.
You can find a Diesel outlet throughout the world as well as South Africa and you can also shop via the Diesel online store or at one of the stockists that supply the Diesel range.
Visit http://store.diesel.com/ and start shopping from the comfort of your home.
The origins of Diesel
Diesel was established by Renzo Rosso, an Italian fashion mogul who began his own low riding jeans manufacturing at age 15, using his mum's sewing machine. In 1976 He began work in a clothing factory where he acquired more skills and techniques. After two years working for Moltex that was owned by Adriano Goldschmied, he's father took out a loan for him where Rosso then bought 40% of the holding company and then changed the company to Diesel and in 1985 he bought out partner Goldschmield for $500,000 USD, cementing whole ownership of the Diesel brand and company.
Get gorgeous designer denims with Diesel
Diesel is an Italian brand and since its inception it has grown to become the thriving and sought after fashion label that it is known as today. Diesel South Africa provides SA shoppers with this excellent range of clothing dedicated to high-end fashion that suits all your style needs as well as comforts. The wide selection of Diesel shoes, Diesel Jeans and other Diesel Clothing makes shopping for great items so simple and convenient. Diesel also caters for kids featuring infant and junior clothing, plus their fashion for men and women makes shopping for the whole family under one roof convenient.
The Diesel online website also has a magazine to enjoy as well as other great reads to enjoy. You can sign up for the Diesel newsletter to stay on-trend with the latest news in the world of Diesel fashion. In collaboration with designers such as Forscarini, Selleti and Scavolini are just some of the designer collaborations that brings you an excellent range of homeware décor and more.