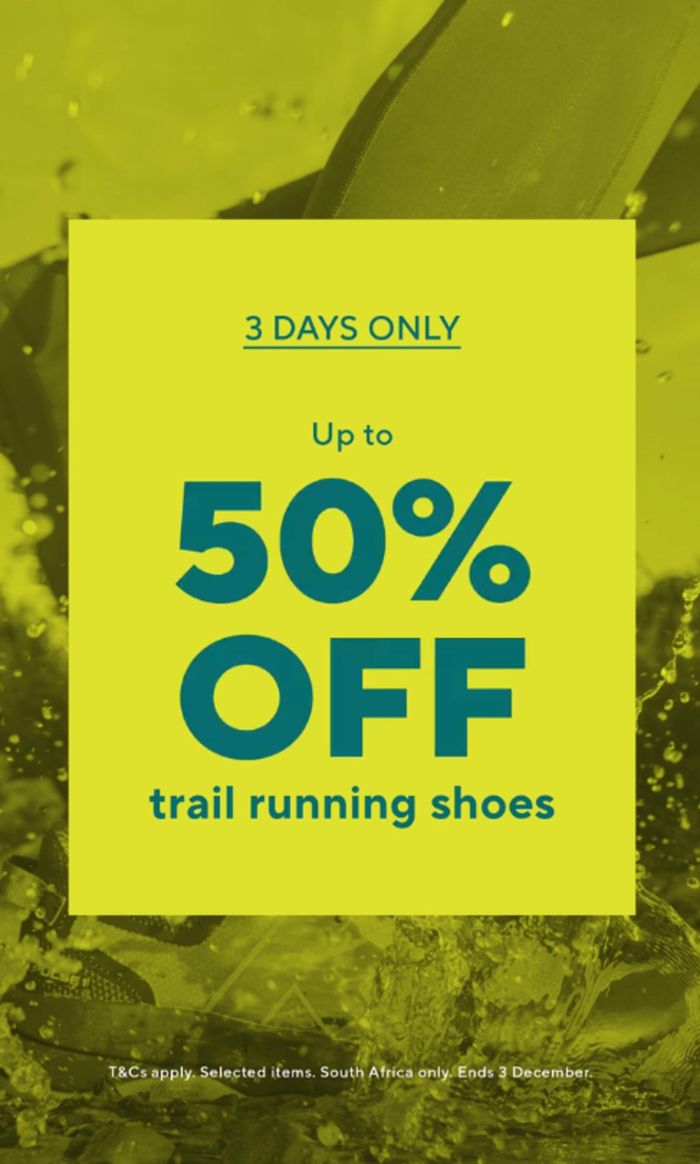 Up to 50% Off trail running shoes
Leroy Merlin

The Perfect Way to Entertain
Looking for the best Cape Union Mart offers
If you are looking for the biggest Cape Union Mart discounts you are in the right place. Here on Tiendeo, we have all the catalogues so you won't miss out on any online promotions from Cape Union Mart or any other shops in the Sport category in your city. There are currently 2 Cape Union Mart catalogues on Tiendeo. Browse the latest Cape Union Mart catalogue "Up to 50% Off trail running shoes" valid from from 30/11 to until 3/12 and start saving now!
Find Cape Union Mart catalogues in your city
Cape Union Mart, all the offers at your fingertips
Do you love the outdoors? Get all you need for your outdoor, sporting and camping adventures from Cape Union Mart - See the Cape Union Mart catalogue for great deals
About Cape Union Mart
Do you love the outdoors for its many beautiful hiking trails and rock climbing venues or do you enjoy camping, and other outdoor adventures? Get to Cape Union Mart factory shop for all the best in quality outdoor brands suited to all your adventures whether it's off the beaten track, snowboarding, or venturing through forest terrain, you'll find something suited to you.
Cape Union Mart stocks a variety of renowned brands including the likes of K-Way, Old Khaki, Cape Union, Arthur Jack, Adidas, CAT, Hi-Tech, Energizer, Intex, Fitbit, Storm, USN, Therm-A-Rest, Sea to Summi, Serbago, Busby, and lots more. There are several Cape Union Mart branches throughout the country in all major shopping centres and with the ability to shop online simply makes it even easier for shoppers to enjoy their shopping experience. The Cape Union Mart clothing range is available in extended sizes, kind's clothing, men and women's clothing.
The Origins of Cape Union Mart
Cape Union Mart has been loved and enjoyed by South Africans and international customers since its establishment in 1933. The company is family owned and was founded by Philip Krawitz, who is also the grandfather of the current chairman. The first store was located between two of the country's most leading retail giants and it was then when the initiative to offer customers something different as opposed to its rivals was born. The store was popular for its non-seasonal stock which meant visitors travelling overseas to snowy locations could purchase thermal clothes for icy weather and vice versa and it also became the first importers of popular international brands. Today there are more than 130 stores and over 2,000 employees.
Cape Union Mart is South Africa's leading outdoor lifestyle specialists
Cape Union Mart products include everything for outdoor fanatics, including clothing for men, women and children as well as outdoor accessories such as backpacks and various other gear like fitness trackers, action cameras and lots more. Regular shoppers can open a Cape Union Mart account to do their shopping at their convenience and there are also advantages for eBucks and Discovery shoppers.
Cape Union Mart provides a safe shopping experience and affords various payment methods including MasterCard and Visa. The exclusive Cape Union mart 5-Way Guarantee ensures product guarantee tailored to your needs and covers price matching, returns and exchanges, specials and promotions, guarantee (outside of manufacture's guarantee), as well as purchases by foreigners. Browse through a Cape Union Mart catalogue for the latest Cape Union Mart sale information and better your chances to save on your next shopping experience at the store.