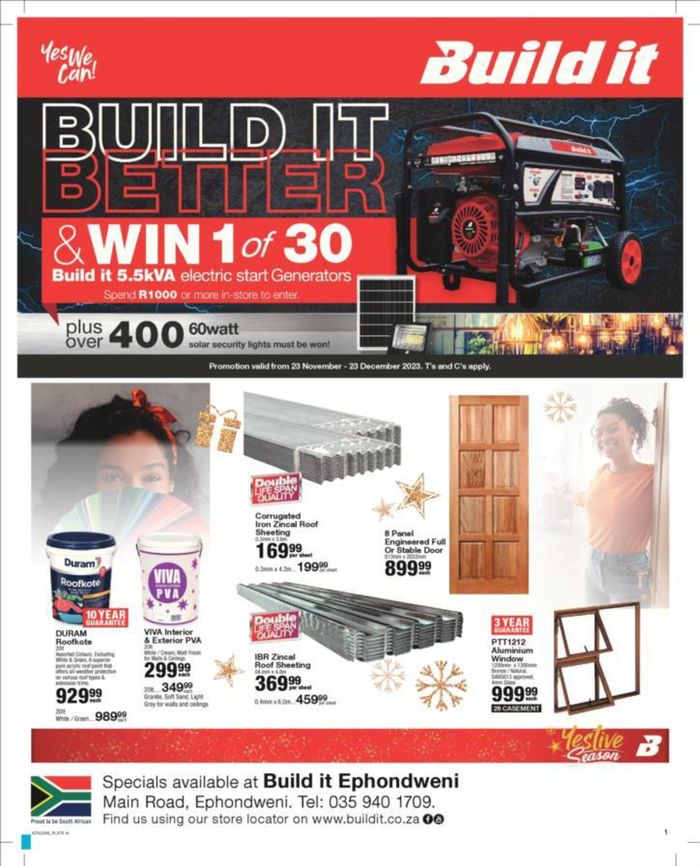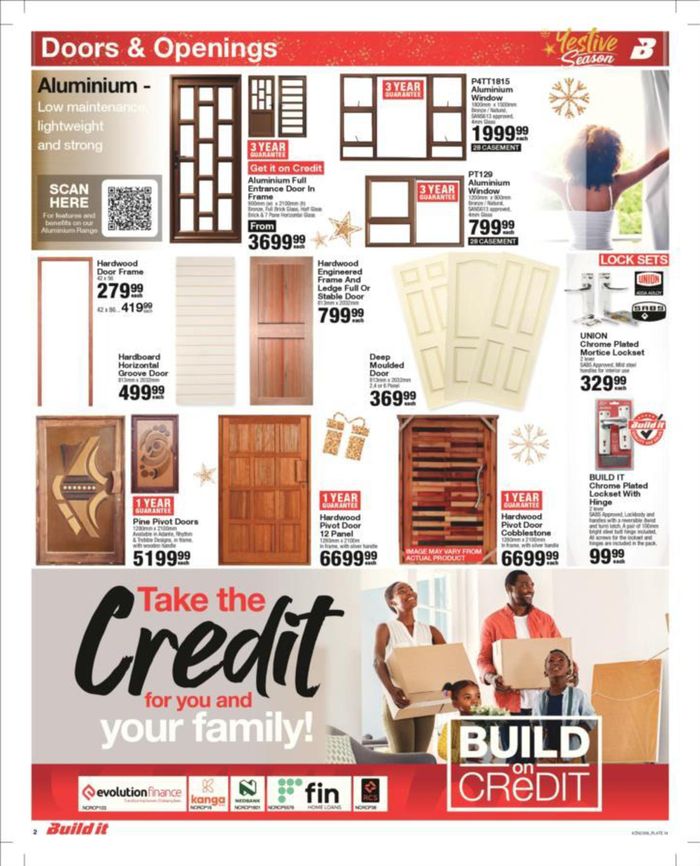 Build It Better & Win 1 of 30
Looking for the best Build It offers
If you are looking for the biggest Build It discounts you are in the right place. Here on Tiendeo, we have all the catalogues so you won't miss out on any online promotions from Build It or any other shops in the DIY & Garden category in your city. There is currently 1 Build It catalogue on Tiendeo. Browse the latest Build It catalogue "Build It Better & Win 1 of 30" valid from from 29/11 to until 23/12 and start saving now!
Find Build It catalogues in your city
Build It, all the offers at your fingertips
Build it is your one stop supplier of all DIY and building essentials, the hardware has a variety of tools and more at low prices. See the Build It catalogue for specials near you
About Build It
Build It supplies its customers with a vast variety of building and DIY equipment for every project. Build It specials are frequently available on selected items and with that even further lowering the cost to pay for great quality items. Built It brands are exclusive to its house brand and guarentees quality at low prices, with some products including brushware, water tanks, fasteners, paint, waterproofing, drill bits, putty, ironmongery, TV accessories and ropes. See the latest Build It catalogue for great deals on your next purchase.
Whether you're a contractor or need goods for domestic use, Built It has a large selection of materials in categories such as domestic furniture, decorative, paint, electrical, metals and fencing, hardware and general, joinery, structural timber, roofing material, tools as well as wall and floor just to name a few. Build It Strand, Build It Cape Gate, Build It Johannesburg, Build It Pine Town and Build It Paarl are just some of the popular branches, however, there are several branches throughout South Africa.
The origins of Build It
Build It started in 1984 in KwaZulu-Natal with only 20 members, the humble beginnings and hard work saw the company grow and because of the competitive prices customers were able to get what they need at lower prices and thus save money. What started only in SA, has grown to expand to Lesotho, Swaziland and Namibia. To date Build It has over 300 stores located in South Africa and an estimate of 8250 employees and the store is part of the Spar Group Ltd.
For all you need in the DIY, BIY, gardening or building departments - Build It is the store for you
Shopping for all your building projects has never been so simple, but with Build It you get quality materials at great market competitive prices. Build It's website has great tips and articles to read up on featuring topics in DIY and building as well as videos with demonstrations for an even better understanding. Build It hardware offers a comprehensive selection of items for all your DIY projects as well as a large selection of BIY (build it yourself) items and materials to aid you with your project. Customers can open a Build It accounts to aid purchases of products.
As being a division of the Spar Group Ltd, Build It also plays a vital role in giving back to the community as well as implement vital environmental sustainability initiatives and employee enrichment.