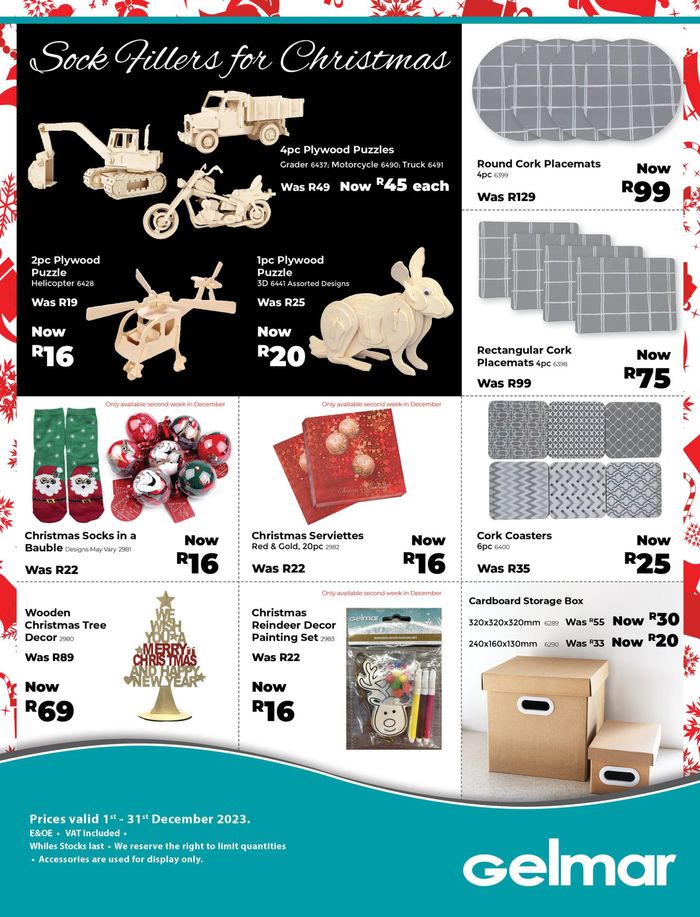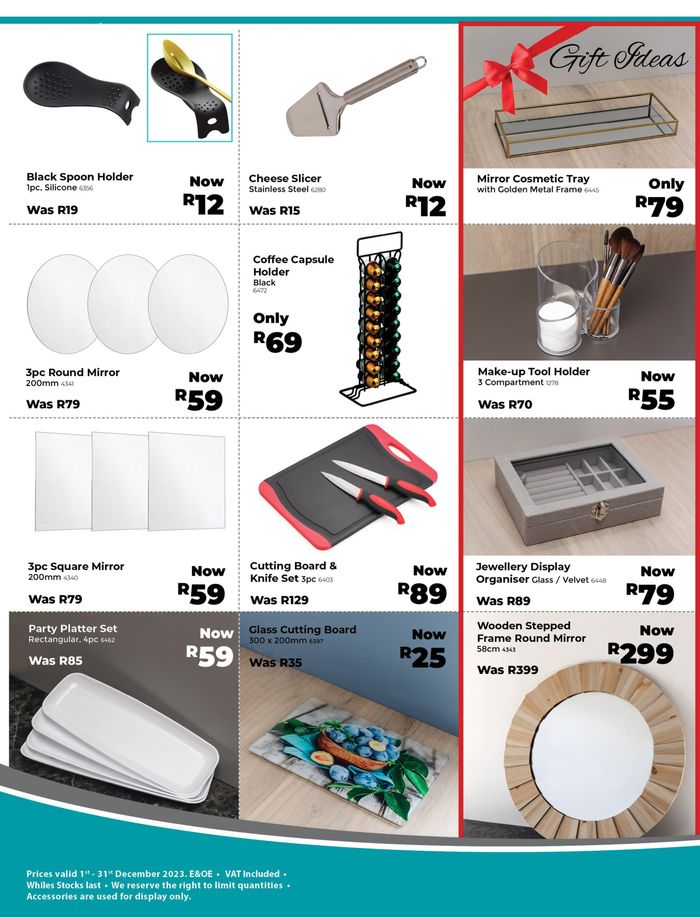 Gelmar Christmas Promotions
Looking for the best Gelmar offers
If you are looking for the biggest Gelmar discounts you are in the right place. Here on Tiendeo, we have all the catalogues so you won't miss out on any online promotions from Gelmar or any other shops in the DIY & Garden category in your city. There are currently 10 Gelmar catalogues on Tiendeo. Browse the latest Gelmar catalogue "Gelmar Christmas Promotions" valid from from 30/11 to until 31/12 and start saving now!
Find Gelmar catalogues in your city
Gelmar, all the offers at your fingertips
Gelmar specialises in products such as handles and fittings in a wide variety of great looking styles and designs for your home. See the Gelmar catalogue for money saving specials.
About Gelmar
Gelmar is one of South Africa's largest retailers when it comes to handles and furniture fittings. Gelmar door handles are available in categories modern, crystal, kiddies, knobs, barrel handles, aluminium, stainless steel, traditional handles, wooden handles, handle screws and plastic handles. There are more than 300 handles to choose from and made for every part of your home such as bedroom doors exit doors as well as wardrobe and kitchen cupboard draws. Gelmar also has a wide selection of bathroom fittings and the adhesives and accessories to do it yourself. Gelmar sliding doors are not only durable and affordable but also beautiful and great for creating partitions within the home. Amongst the many products Gelmar kitchen fitting also includes a wide selection of small accessories and fittings and larger items such as Gelmar sinks and lots more. There are Gelmar stores located throughout South Africa within every province and for customers who wish to enjoy their shopping experience from home, Gelmar affords a safe, efficient online shopping experience.
The origins of Gelmar
Gelmar was founded in October 1935 and has become favourite amongst local and international shoppers due to the quality products and affordable prices. Gelmar Handles and Furniture Fittings is dedicated to serving customers with only the best in selected products to help you redo your home décor with the finishes tailored to your style.
Pop in at Gelmar for quality handles and fittings for your home
Gelmar has many years of servicing South African shoppers with the best quality and great looking designs in a vast variety of handles and fittings for any living space. Whether you need to spruce up your kitchen bathroom or doing additional changes to your home, with Gelmar's large variety of products you're sure to find just what you need to make your place the perfect space and home. Gelmar specials are frequently available, so stay tuned to the latest promotions by visiting their website or browsing the Gelmar catalogue online via Tiendeo. Customers can enjoy ongoing quality excellence paired with excellent affordable prices.
Customers who prefer the DIY approach to projects will be please to know that Gelmar provides DIY leaflets available on the company website. You can also sign up to the free newsletter for all the latest news and product offerings available.