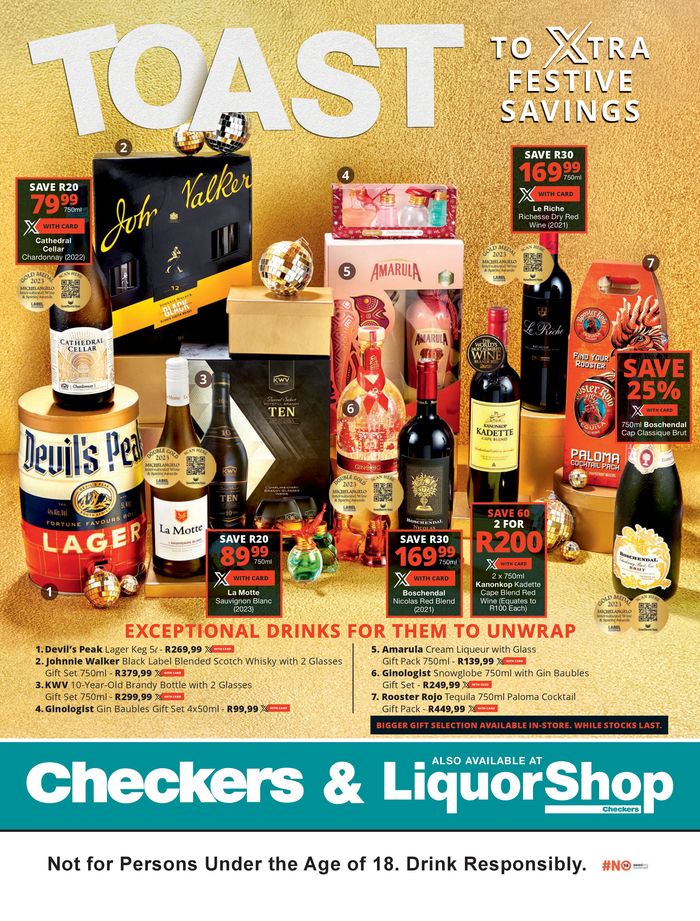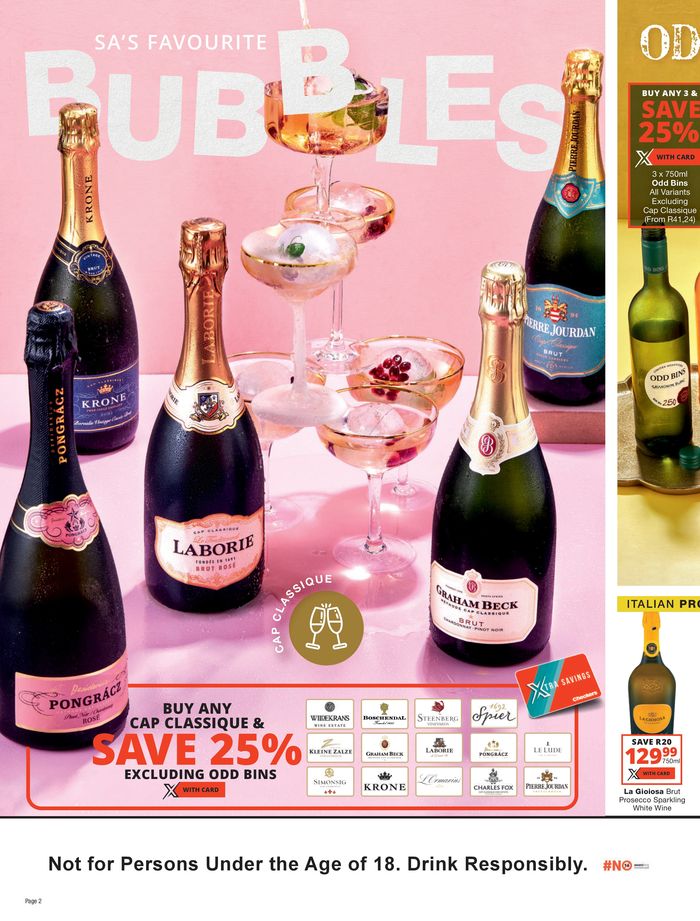 Toast To Xtra Festive Savings
Looking for the best Checkers Liquor Shop offers
If you are looking for the biggest Checkers Liquor Shop discounts you are in the right place. Here on Tiendeo, we have all the catalogues so you won't miss out on any online promotions from Checkers Liquor Shop or any other shops in the Groceries category in your city. There are currently 2 Checkers Liquor Shop catalogues on Tiendeo. Browse the latest Checkers Liquor Shop catalogue "Toast To Xtra Festive Savings" valid from from 22/11 to until 10/12 and start saving now!
Find Checkers Liquor Shop catalogues in your city
Checkers Liquor Shop, all the offers at your fingertips
The Liquor Shop is one of Johannesburg's leading online store and offers a variety of liquor beverages for every occasion. See the Liquor Shop catalogue for money saving deals.
About The Liquor Shop
The Liquor Shop is perfect as it provides shoppers with the convenience of shopping from the comfort of their homes. You can shop from over 100 different types of craft beers, bubbly, wines, ciders, spirits, whiskys, liqueur, coolers, shooters, mixers, and even trusted hangover cures. See the Liquor Shop catalogue for specials and save on your next purchase. You can rely on Liquor store for excellent service and quality products. The company delivers to homes, business functions or party venues and despite the main offices being in Johannesburg, you can shop from anywhere in Gauteng and get your items delivered to you, see delivery fees for the different areas.
The origins of Liquor Shop
The Liquor Shop was founded to be a convenient and easy way to shop for a wide selection of alcohol and non alcohol beverages from the comfort of your home or office. The Liquor Shop online store thus caters to customers all over Gauteng, with free delivery in Fourshore, Sandton and Randburg areas Johannesburg. The company is proud to be one of Johannesburg's leading online bottle stores and provides market competitive prices over their entire line of alcohol.
Shop conveniently for all your liquor at the Liquor Shop
The Liquor Shop online is one of South Africa's favourite when it comes to online convenience and liquor shopping. Your shopping experience online is safe, with easy payment options like Master Card, Visa and PayFast. The stores is Gauteng's most popular online stores and you can purchase a variety of non-alcoholic and alcohol beverages like ciders, whisky, beer, craft beer, coolers, mixers, wine and gift packs. See the Liquor Shop catalogue for money saving deals and get your party started!
You can enjoy market competitive prices on their products sold plus free delivery in the Fourways, Sandton and Randburg regions, other areas delivery fee is between R50 and R150, whether you need to stock up for a function, business parties or your home, we got you covered.