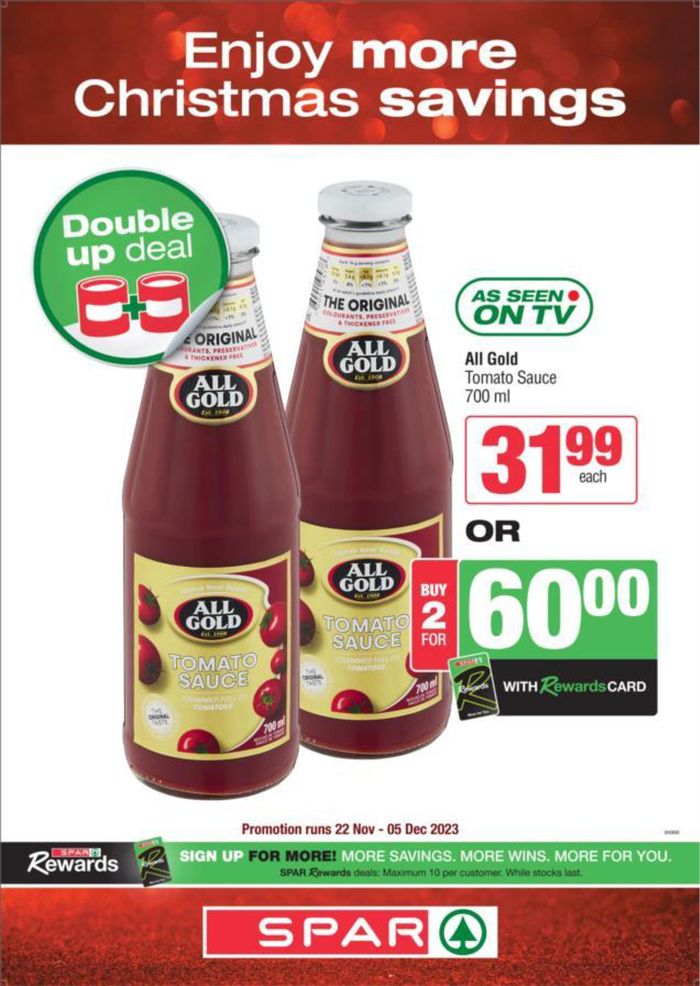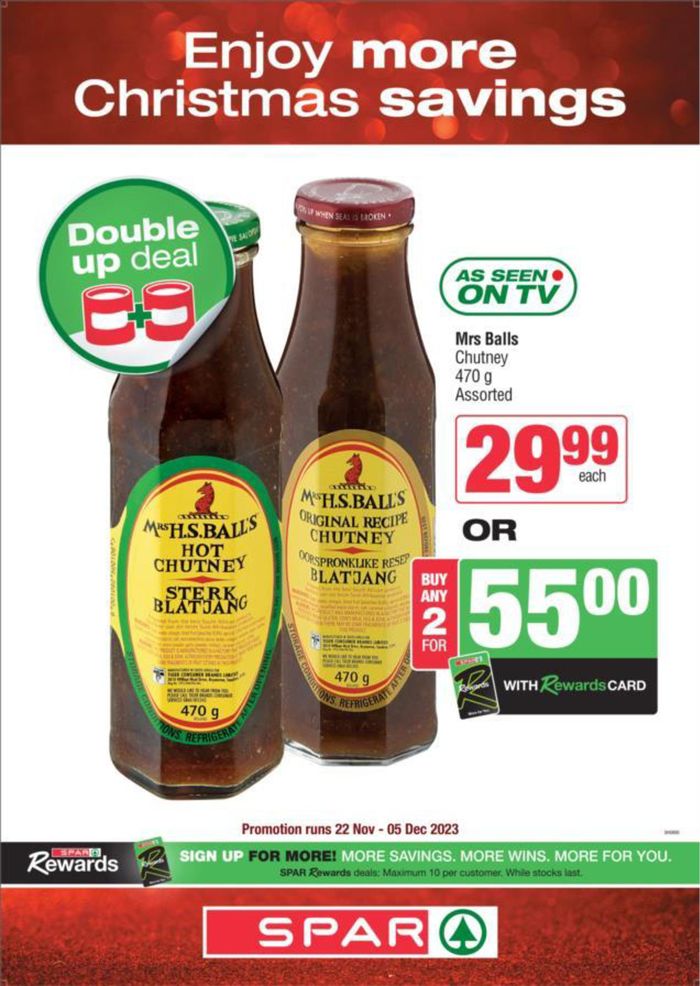 Enjoy More Christmas Savings
Looking for the best Spar offers
If you are looking for the biggest Spar discounts you are in the right place. Here on Tiendeo, we have all the catalogues so you won't miss out on any online promotions from Spar or any other shops in the Groceries category in your city. There are currently 2 Spar catalogues on Tiendeo. Browse the latest Spar catalogue "Enjoy More Christmas Savings" valid from from 21/11 to until 5/12 and start saving now!
Find Spar catalogues in your city
Spar, all the offers at your fingertips
Spar is a wonderful food retail outlet for all your convenient grocery shopping needs with quality items at affordable prices. See the Spar catalogue for specials at a branch near you.
About Spar
Spar supplies all you need for your everyday lifestyle and home needs, from toiletries and pet items, to great wine, groceries, small appliances and more. Spar is dedicated to maintain its friendly, warm customer service paired with excellent quality product produce. Customers can take advantage of the Spar Rewards that will help with even more savings on selected Spar items via the Rewards card, obtaining a rewards card is quick and easy see in-store for details. There are always Spar specials running on selected items and what better way to save by taking advantage of the special offer. See the Spar website for detail or view the Spar catalogue and see how you can save on your monthly shopping expenses.
Spar trading hours may vary from store to store, and there are over 1000 exclusive Spar brand products available at more than 700 stores. Some of Spars brands include Savemore, Freshline, Tender and Tasty, Chika Chicken, and Spar Pharmacy just to name a few.
The origins of Spar
Spar South Africa started its journey 51 years ago and has since grown as part of the international group. In the 60's most retailers in South Africa where merging and taking over other stores, the Spar brand was made up of 8 wholesalers and had the right to keep the Spar brand and name servicing over 500 stores. To date the Spar Group Ltd has more than 600 stores throughout South Africa and counting (Spar, Superspar, Kwikspar and SaveMor). The company prides itself to the promise of providing a friendly environment for customers to ensure an enjoyable shopping experience and going the extra mile for customers.
Get all your shopping essentials and more at a Spar near you
Spar South Africa sells everything from fresh produce, to toiletries and pet goods. Tops at Spar is Spar's very own liquor store for that added convenience. Spar stores rewards shoppers with the Spar Rewards card that allows you to save on selected Spar items. The company utilises sustainable solutions such as responsible fishing with SASSI, promoting and raising awareness to environmental sustainability and ensuring that products are manufactured with less impact to the environment.
Spar also strives to continue enriching local communities and contributing to charitable efforts like support to Kids Haven caring and rehabilitating homeless children and Imkamv'elihle caring for bedridden and housebound children living with HIV/AIDS. Customers can enjoy the convenient money market to pay utilities, purchase airtime, tickets, draw cash and more. Keep an eye out for Spar specials every week via the Spar catalogue or the online website.