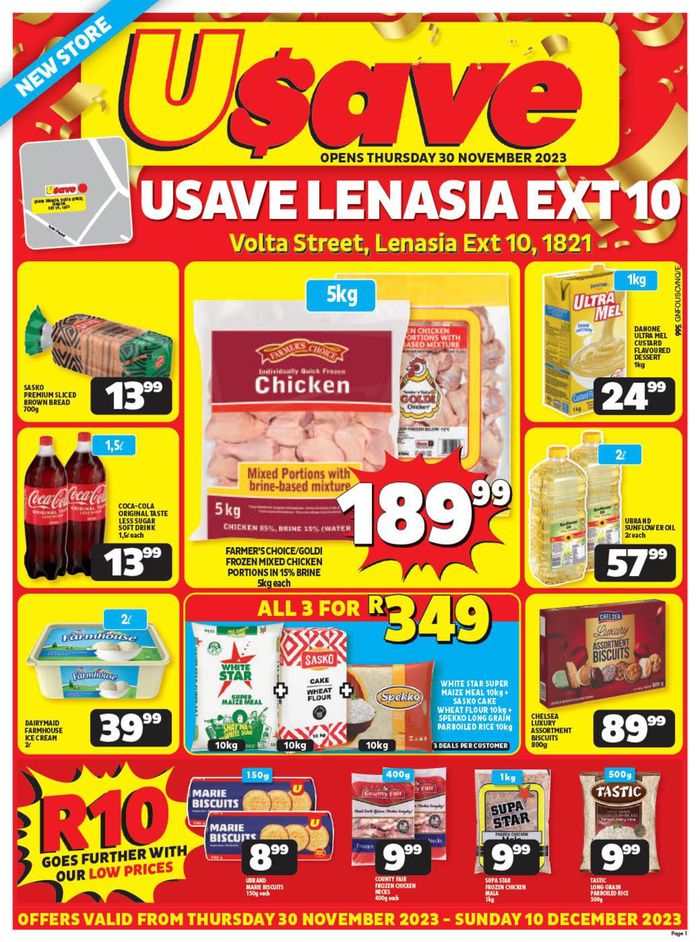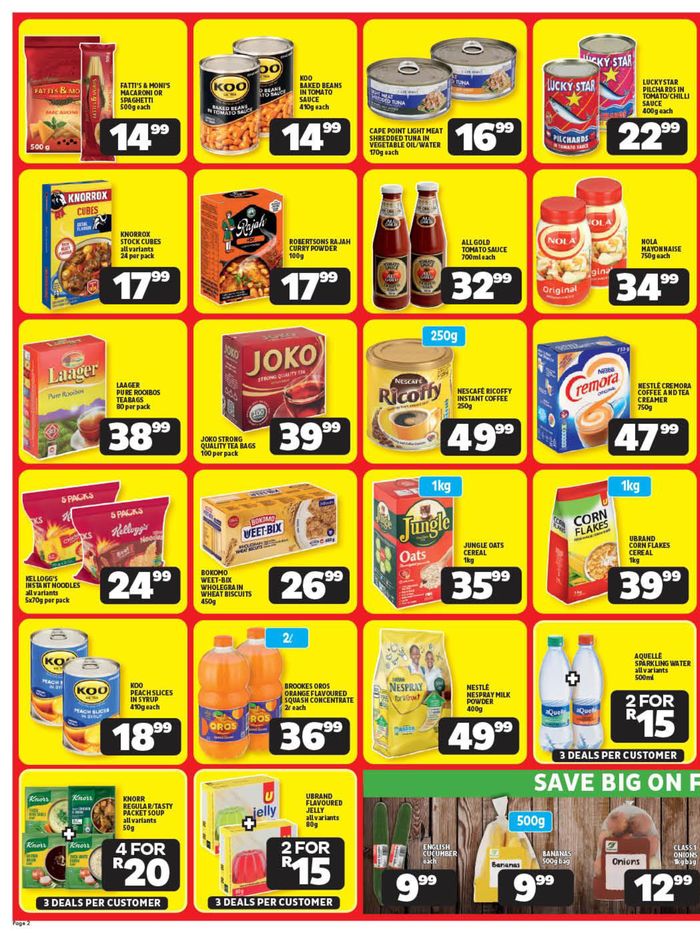 Usave Lenasia Ext 10 Promotions
Looking for the best Usave offers
If you are looking for the biggest Usave discounts you are in the right place. Here on Tiendeo, we have all the catalogues so you won't miss out on any online promotions from Usave or any other shops in the Groceries category in your city. There are currently 5 Usave catalogues on Tiendeo. Browse the latest Usave catalogue "Usave Lenasia Ext 10 Promotions" valid from from 29/11 to until 10/12 and start saving now!
Find Usave catalogues in your city
Usave, all the offers at your fingertips
Usave brings shoppers great specials and affordable prices on everyday grocery and toiletry items. Usave helps you to save even when the cost of living rises, see the Usave catalogue for specials.
About Usave
Usave is one of South Africa's favourite supermarkets when it comes to low prices on quality grocery items that you can trust for your home and or office canteen. Purchase quality products from quality brands like Bokomo, Albex, Crown, Sasko, Country Fair, Huggies, Dawn, Iwisa and Spartletta to name a few. See the Shoprite Usave specials catalogue for fantastic specials on selected items.
Shoprite Usave contact details can be found on the company's website and you can enquire details of stock or even vacancies. The Usave supermarket includes Shoprite Usave Cape Town, USave Johannesburg and Usave branches located all over South Africa. See the company's store locator to find a branch nearest to you.
The origins of Usave
Usave is part of the Shoprite Holdings Group who operates 14 retail brands that are dedicated to value for money. There are 2653 Shoprite stores in 15 countries throughout Africa and that total continues to grow. There are Usave stores located throughout South Africa, bringing the concept of quality groceries at affordable prices to most areas. Despite being the group's youngest retail chain, it is a proven success and caters to lower income markets. The reason for the success is the fact that the brand focuses on affording shoppers a similar opportunity such as purchasing in bulk so you pay less for your items.
Get excellent low prices on everyday products at Usave
Usave is part of the Shoprite Holdings Group that is dedicated to bringing you lower prices that you can rely on for all your grocery shopping needs. Product brands include quality names like Bokomo, Iwisa, Dawn, Country Fair, Knorrox, Lifebuoy, Blossom, Fusion, Snowflake, Nescafe, Rama and Sparletta to name just a few. See the Usave catalogue for excellent deals for your next day of shopping. Shop at a Usave grocery store to beat the cost of living and get more for your rands. For enquiries, simply contact the company directly.
There are Shoprite Usave jobs available and its best when looking for vacancies to contact the Usave Shoprite head office directly. As Usave is part of the shoprite group, it endeavours to fight hunger with short, medium and long term food scarcity needs such as seen with the mobile soup kitchen to help sustain vaulnerable communities. The Shoprite group is dedicated to empowering women and also to developing skills and implementing positive change into local communities.