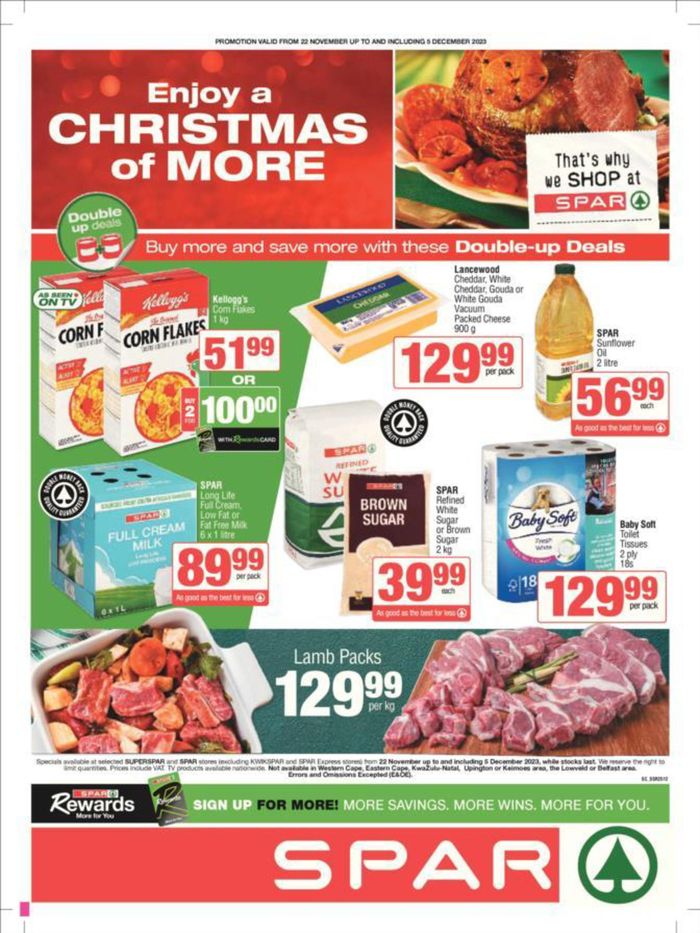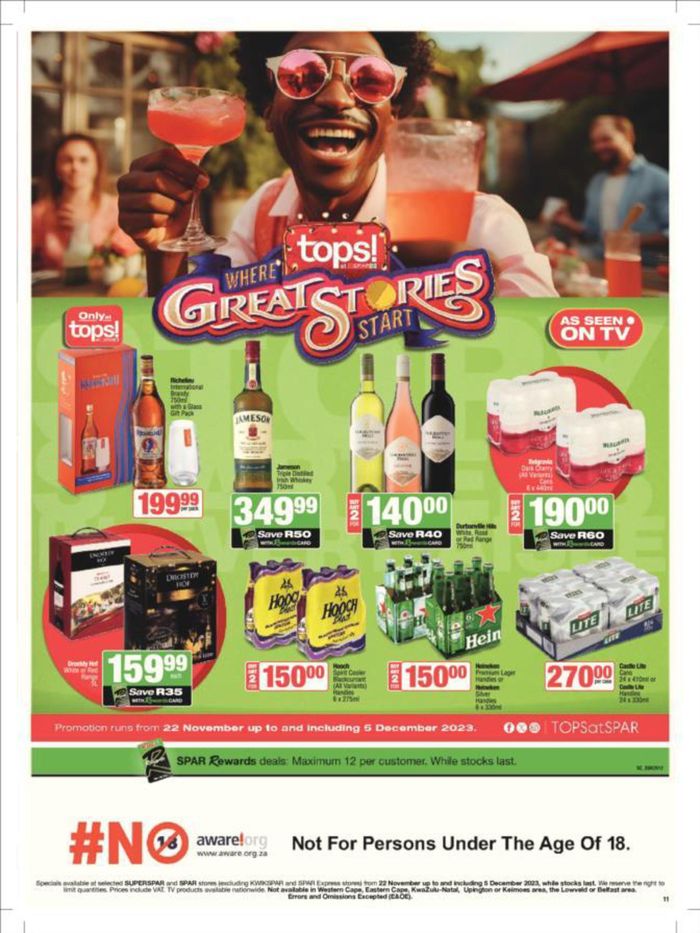 SuperSpar Enjoy Christmas
Looking for the best SuperSpar offers
If you are looking for the biggest SuperSpar discounts you are in the right place. Here on Tiendeo, we have all the catalogues so you won't miss out on any online promotions from SuperSpar or any other shops in the Groceries category in your city. There is currently 1 SuperSpar catalogue on Tiendeo. Browse the latest SuperSpar catalogue "SuperSpar Enjoy Christmas" valid from from 21/11 to until 5/12 and start saving now!
Find SuperSpar catalogues in your city
SuperSpar, all the offers at your fingertips
SuperSpar is one of the largest supermarkets in South Africa, and provides you and your family a comprehensive shopping experience and lots more. See the SuperSpar catalogue for money saving deals.
About SuperSpar
SuperSpar is one of South Africa's largest supermarkets offering a comprehensive array of groceries, toiletries, petcare, cleaning items and lots more. SuperSpar specials are always available so have a look at the most recent SuperSpar catalogue and see what money saving deals you can snatch up on your next shopping spree. SuperSpar stores also feature a family restaurant for added convenience with a great menu showcasing a wide selection of mouth-watering meals for every time of the day, and if you're in a bit of a rush, you can simply have something prepared as a takeaway. Enjoy freshly baked goods from the bakery, convenient foods from the deli and all under one roof. You can find SuperSpar stores located all over South Africa some include but are not limited to Gateway SuperSpar, SuperSpar dnb, SuperSpar Zevenwacht Mall, SuperSpar Pretoria and lots more, see the online store locator for SuperSpar stores nearest to you.
The origins of SuperSpar
SuperSpar is a division of the SPAR group, which was established in 1932 in Holland and as a multinational retail chain, the company has grown substantially with more than 12.500 stores in 35 countries throughout the world including Europe, Oceania countries, Asia and Africa. In Europe the SuperSpar store as it is known in South Africa, is called Eurospar.
Get all you need for groceries at SuperSpar
SuperSpar brings you a great shopping experience not only will you find friendly and helpful staff but also quality products at affordable prices for whether you're simply buying a few grocery items or doing your shopping for the week or month. The multinational company has stores all over the world and you can simply use the SPAR website to locate SuperSpar stores nearest to you. For amazing SuperSpar specials have a browse through the latest SuperSpar catalogue and see what products will help you save on your next shopping experience. SuperSpar also features, the Spar rewards program that allows you to save on purchases of selected items. As SuperSpar is a division of the SPAR Group it also complies with sustainability and responsible resourcing of supplies and products. When it comes to enhancing skills SuperSpar is dedicated to skills improvement and the growth of their staff as well as affording jobs to local communities. The Spar website also has some interesting reads and recipes for you to try at home.