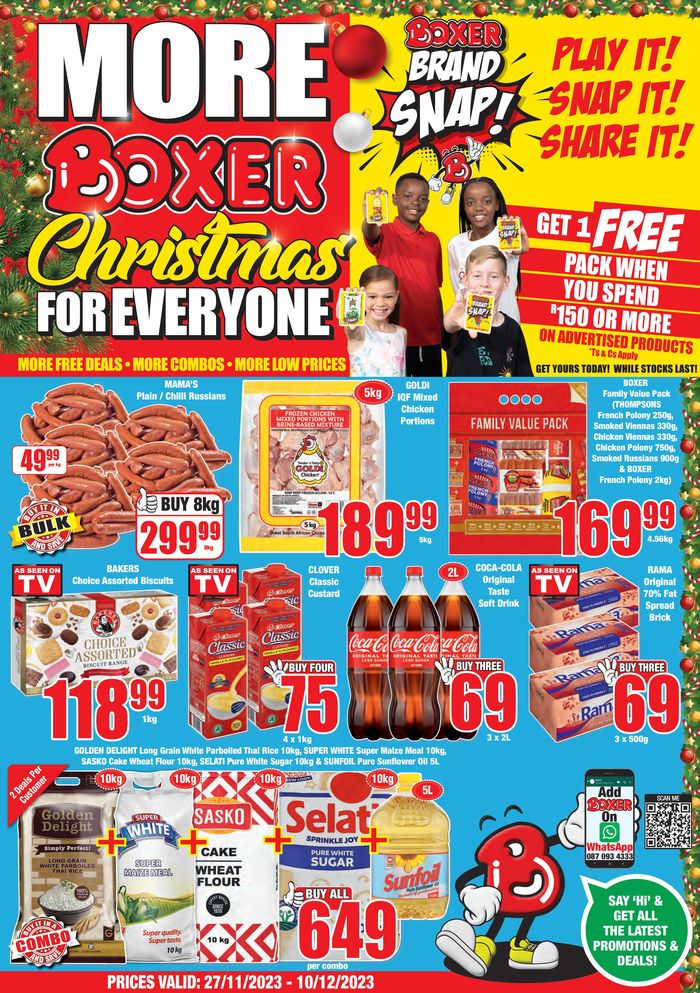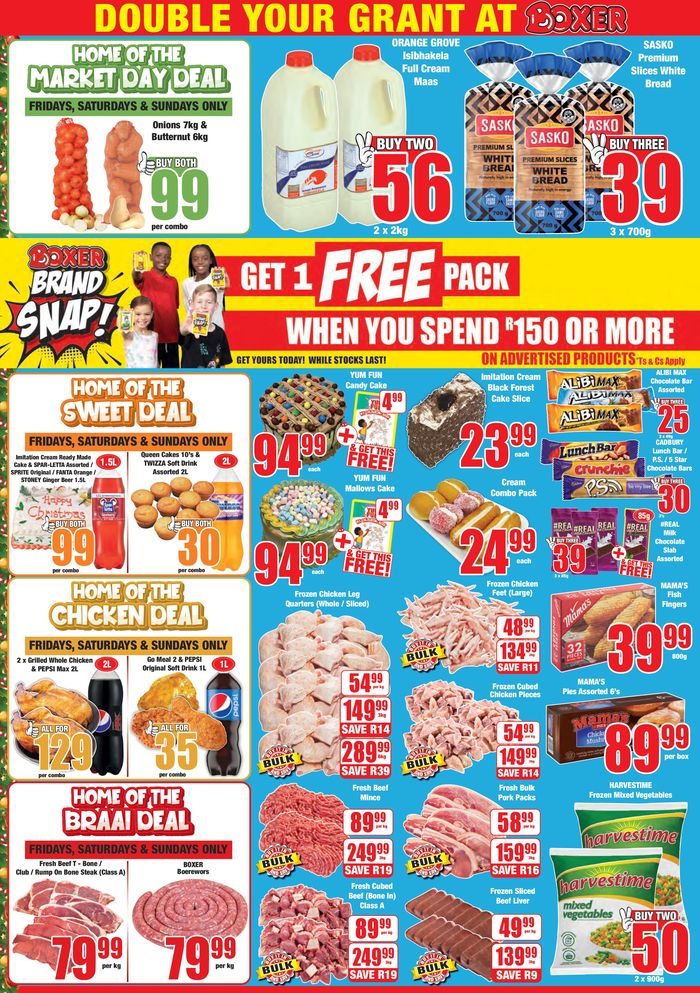 KZN - More Christmas For Everyone
Looking for the best Boxer offers
If you are looking for the biggest Boxer discounts you are in the right place. Here on Tiendeo, we have all the catalogues so you won't miss out on any online promotions from Boxer or any other shops in the Groceries category in your city. There is currently 1 Boxer catalogue on Tiendeo. Browse the latest Boxer catalogue "KZN - More Christmas For Everyone" valid from from 26/11 to until 10/12 and start saving now!
Find Boxer catalogues in your city
Boxer, all the offers at your fingertips
Boxer Superstores is one of South Africa's leaders when it comes to low prices guaranteed on quality grocery and food items. For specials to help you save even more, view the Boxer Superstores catalogue.
About Boxers Superstores
Boxers Superstores is one of South Africa's favourite grocery stores to shop for great quality at low, low prices. Since its inception it has become one of the best retail grocery stores for price compatibility on products maintaining their vision of "being the people's champion" and loyal by always providing quality products and services throughout the years. Boxers Superstores trading hours may vary from store to store so you should contact them directly for more information. For specials on your favourite alcohol beverages, have a browse through the Boxer liquor store catalogue to save on purchases.
The origins of Boxers Superstores
Boxers Superstores started their journey in 1977, when a Cash n Carry was established in the KwaZulu-Natal region called KwaZulu-Natal Cash n Carry. At first the company was solely focused on trading in products like maize, samp, rice, sugar and beans, later on the company traded in bulk products to consumers, retail markets and informal markets. This led to more success, and in 1979 a second branch in Empangeni but in the late 1980's the company was then bought by private investors. 1995 Saw the expansion of the Boxer Cash n Carry brand to regions outside KZN. Today the company has divisions that include Boxer Build dedicated to hardware and DIY, Boxer Liquor, Boxer Punch, and Boxer meats and there are several stores in South Africa.
Get money saving deals at Boxer Superstores
Boxer Superstores have been supplying local shoppers 40 years of trusted customer services excellence, quality products and fantastic affordable prices throughout the company brand. Boxer Superstores can be found throughout South Africa and you can find Boxer store trading hours by contacting the local branches. You can purchase a Boxer Superstores Gift Card to spoil someone, apart from that, Boxers Superstors has a full money kiosk and provides shoppers with services to have a lay-bye savings card so you can keep topping it up and save for a big purchase later on, you can allso apply for credit at stores and do lots more like pay electricity, account payments or withdraw money. You can contact Boxers Superstores headoffice to enquire about a Boxers Superstores franchise opportunity. Stay in the know and sign up for the free Boxers Superstores newsletter and also see the latest Boxers store catalogue for money saving deals.