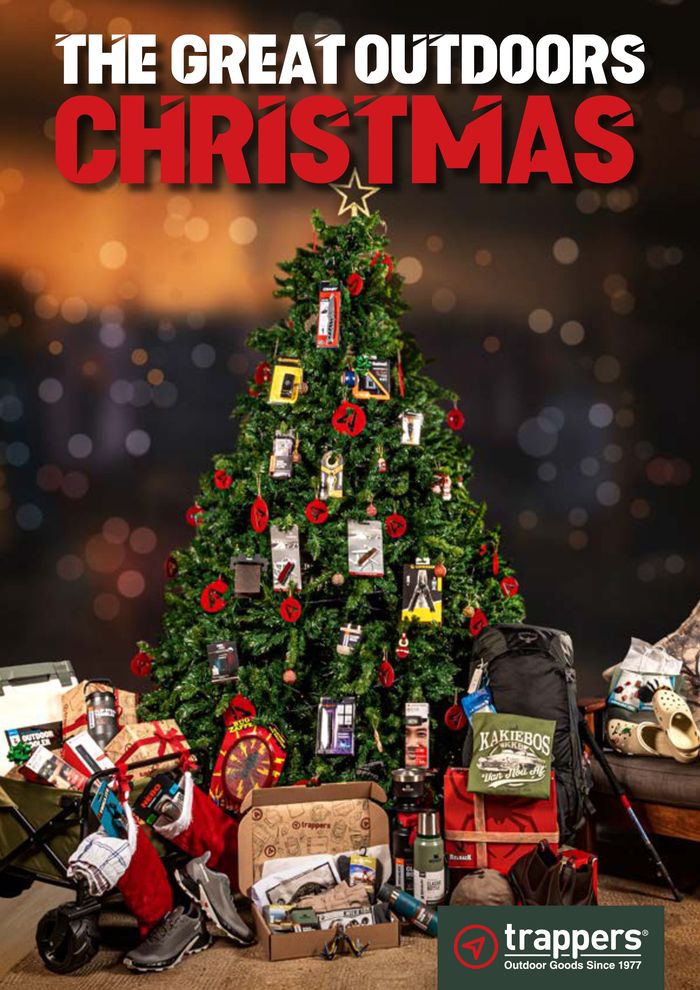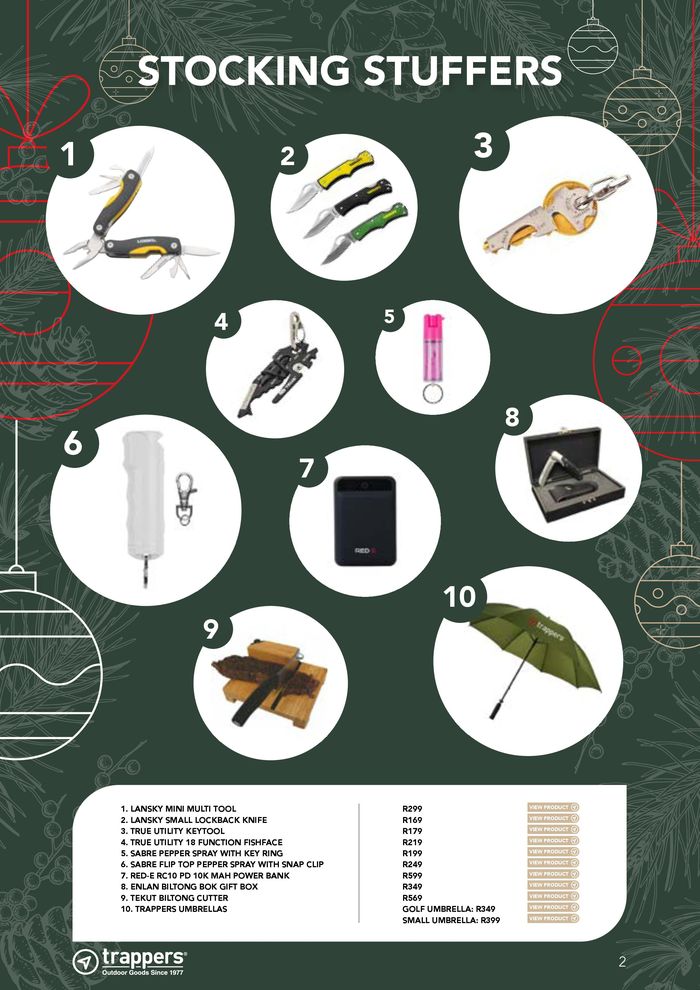 The Great Outdoors Christmas
Builders

Summer Décor and Lighting Ranges

Builders

Smart Home Security
Looking for the best Trappers offers
If you are looking for the biggest Trappers discounts you are in the right place. Here on Tiendeo, we have all the catalogues so you won't miss out on any online promotions from Trappers or any other shops in the DIY & Garden category in your city. There is currently 1 Trappers catalogue on Tiendeo. Browse the latest Trappers catalogue "The Great Outdoors Christmas" valid from from 3/12 to until 24/12 and start saving now!
Find Trappers catalogues in your city
Trappers, all the offers at your fingertips
Trappers is your outdoor supplies, apparel and gear specialist with a comprehensive range of gear, clothing, footwear and accessories. View the Trappers catalogue for more details on special deals.
About Trappers
Trappers are a leading outdoor retail store that has a wide assortment of outdoor apparel, and equipment for every outdoor adventure. Trappers South Africa stocks a comprehensive array of product items from leading brands such as First Acent, Salomon, Nikwax, Hi-Tech, CAT, Merrell, Teva, CROCS, GoPro, Garmin, Coleman, and North Ridge. Trappers clothing are manufactured of the highest quality, bearing the elements and climate challenges in mind, so it doesn't matter what outdoor adventure you take on, here at Trappers you'll find something suited to your needs. There are many Trappers stores located nationwide, but for convenience, you can utilise the Trappers store locator to find a branch nearest to you. For wonderful deals and specials on selected items, why not have a look on the most recent Trappers catalogue to ensure you get a chance to save on your next purchase by not missing any Trappers specials.
The origins of Trappers
Trappers South Africa was established in 1976, since its inception, it has grown to become a leading name in the outdoor retail industry selling a vast selection of outdoor essentials. There are a total of 32 Trappers stores located within South Africa. What drives Trappers is the dedication to customers of all sorts and it's here you'll find passionate staff and expertise to aid every outdoor adventure whether you're a beginner or pro at what you do.
Get all you need in outdoor equipment at Trappers
Trappers stores is where you need to go for professional expertise on your outdoor related product queries. With a large range of products by leading international manufactures, such as tents, fitness trackers, headlamps, hiking packs, clothing and footwear you can't go wrong. Simply use the Trappers store locator to find your nearest branch and to stay in the know, why not view the latest Trapers catalogue for your chance to save on selected items in a Trappers sale. There are always Trappers specials running so make sure you get saving. Some Trappers branches include Trappers Sandton City, Trappers Somerset West, and Trappers Woodmead to name a few. You can also use Trappers online shopping to do your complete shopping for your adventure and pay with convenient payment options such as Visa or Master Card and you can also sign up for the Trappers newsletter to receive firsthand news and lots more.