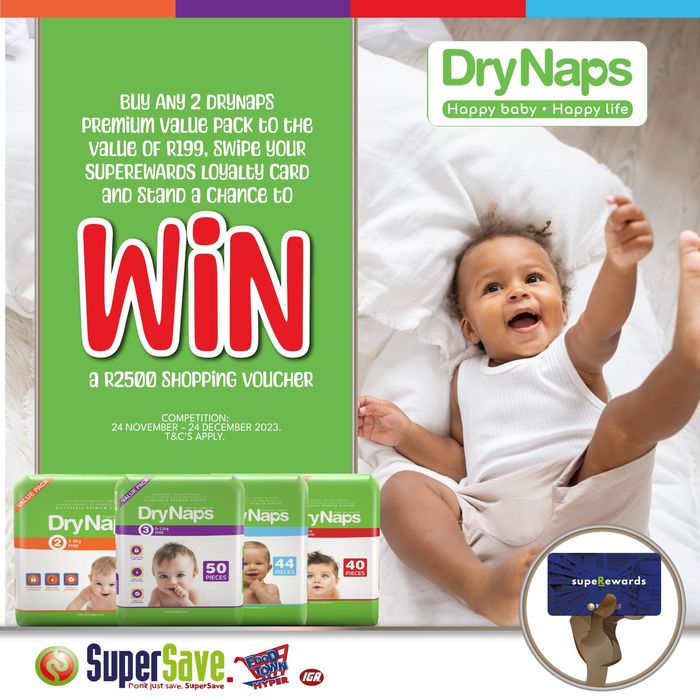 Win R2500 Shopping Voucher
Looking for the best Super Save offers
If you are looking for the biggest Super Save discounts you are in the right place. Here on Tiendeo, we have all the catalogues so you won't miss out on any online promotions from Super Save or any other shops in the Groceries category in your city. There are currently 3 Super Save catalogues on Tiendeo. Browse the latest Super Save catalogue "Win R2500 Shopping Voucher" valid from from 26/11 to until 24/12 and start saving now!
Find Super Save catalogues in your city
Super Save, all the offers at your fingertips
SuperSave is your one-stop grocery store with all you need from packages and fresh foods to non-foods and more. See the SuperSave catalogue for deals and promotions.
About SuperSave
SuperSave stores is one of South Africa's leading names in supermarket products that are available to shoppers at a low price. At SuperSave stores you can pick up leading brands like Kellogg's, Koo, All Gold. Ariel, Purity, Rama, Spar Letta, Dettol, palmolive and lots more to grace your kitchen cupboards and bathrooms. Some SuperSave branches include SuperSave Springs, SuperSave Polekwane, SuperSave Durban, as well as SuperSave Burgersfort to name a few. There are only a few stores in South Africa but the company continues to grow all the more, satisfying many shoppers not only with a team of friendly staff but also with prices that are affordable even during a time when the economy rises. Contact a store nearest to you for any related queries and view the SuperSave catalogue for specials.
The origins of SuperSave
SuperSave South Africa was established to bring shoppers a better choice when it comes to affordable supermarket item prices. There are SuperSave branches in South Africa, and continues to grow. The SuperSave group also has the SuperSave Butchery Shoppe Pietermaritzburg stocking a large selection of fresh meats and poultry, as well as well as Pietermaritzburg SuperSave Produce Shoppe stocking quality fruit and vegetables.
Get great deals at SuperSave stores
SupearSave brings you great quality on all you need for your grocery shopping, from a wide selection of foods, to non-food items from leading brands and suppliers. What's also perfect is the fact that you get all this great quality and still save because of the low prices, needless to say saving you lots at the end of your shopping day. For great specials you can also browse through the latest SuperSave catalogue for a chance to save even more on selected items sold at stores. You can view the SuperSave online website for product details as well as contact details to the stores nearest to you. SuperSave stores are located nationwide, you can use the online store locator to find a branch closest to you. For any queries related or to find out about SuperSave jobs, you can call SuperSave directly.