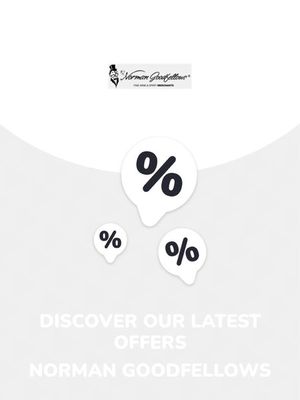 Offers Norman Goodfellows
Looking for the best Norman Goodfellows offers
If you are looking for the biggest Norman Goodfellows discounts you are in the right place. Here on Tiendeo, we have all the catalogues so you won't miss out on any online promotions from Norman Goodfellows or any other shops in the Groceries category in your city. There is currently 1 Norman Goodfellows catalogue on Tiendeo. Browse the latest Norman Goodfellows catalogue "Offers Norman Goodfellows" valid from from 22/9 to until 22/9 and start saving now!
Norman Goodfellows, all the offers at your fingertips
Norman Goodfellows is known as a premium liquor supplier in South Africa, with no fewer than 10 branches scattered throughout the country to help promote fast, efficient service for all customers.
About Norman Goodfellows
Aiding in the sublime reputation of Norman Goodfellows is the fact that all of the brand's stores are conveniently located, tastefully appointed, plus fully stocked with some of the finest alcoholic (and non-alcoholic) beverages on the planet. Add to that the company rule that ALL customers have to be greeted with a friendly smile and it's not hard to see the appeal of Norman Goodfellows.
The history of Norman Goodfellows
The current manager of Norman Goodfellows, Solly Kramer Jr, is actually the third generation to operate this family-run liquor business, which was originally started by his namesake grandfather. Fresh in the country from Lithuania, Solly Kramer Sr started a tobacconist store around 1915 in Market Street in the Johannesburg CBD. During the 1930s, the tobacconist store transformed into a liquor store, the first Solly Kramer liquor store in the country.
Solly Jr's father, Norman, took over the Illovo store in 1977, which he called the Norman Goodfellows Illovo Bottlestore (which only measured 100 m² in layout). Solly Jr was a mere 8 years old when he started working at the family business during weekends and holidays. After a 14-month stint working at a distillery in Scotland before studying business administration at the University of Edinburgh, Solly Jr finally joined his family's business in 1979.
Today, The Norman Goodfellows liquor store brand, which is managed by both Solly and his brother Charles, operates in no fewer than 10 branches right across the country (including Cape Town, Johannesburg, Durban, etc.).
Don't forget to click through to the Norman Goodfellows website for even more value-added services and customer perks.
• Like the delivery services operating to all of South Africa's major centres, including Cape Town, Bloemfontein, George, Kimberley, Pietersburg, etc. International delivery to most locations is also possible.
• Or the gift-wrapping service (including a greeting card) on any product bought through their online liquor shop.
• And don't forget about their exquisite party planner service where you'll be assisted with every little detail regarding your next bash (plus the amount of drinks to be delivered).
Are you worried that you're currently missing out on some terrific Norman Goodfellows deals and discounts? Then don't forget to sign up for the Tiendeo alerts to ensure you are always kept in the loop regarding the latest online catalogues and special offers from Norman Goodfellows, regardless of which city you live in.