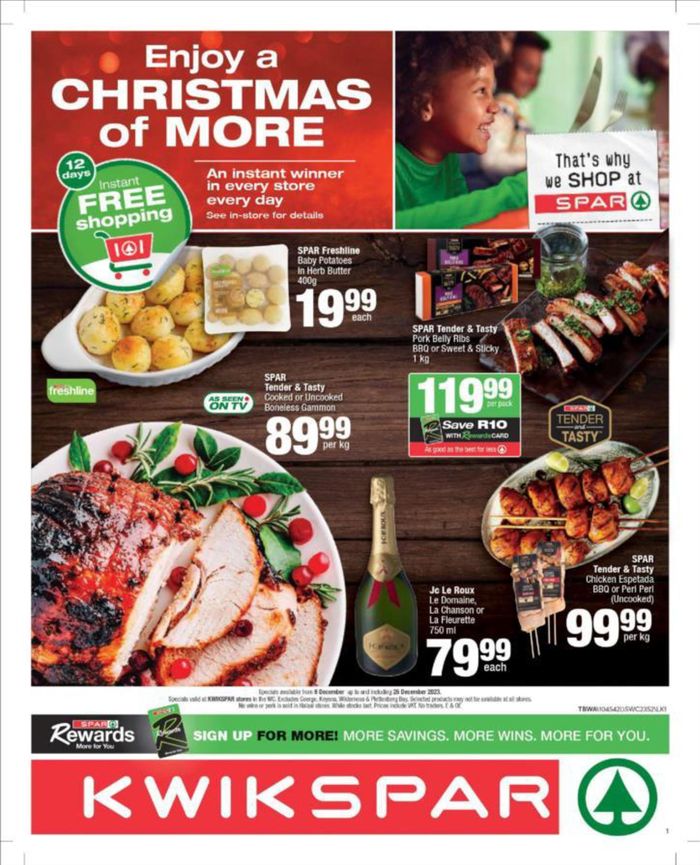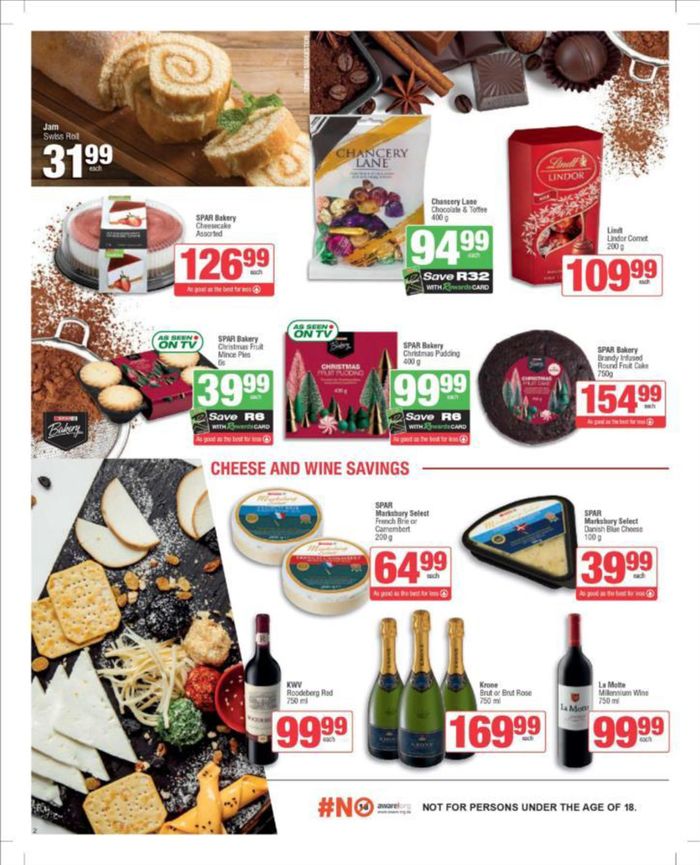 Enjoy A Christmas Of More
Looking for the best KwikSpar offers
If you are looking for the biggest KwikSpar discounts you are in the right place. Here on Tiendeo, we have all the catalogues so you won't miss out on any online promotions from KwikSpar or any other shops in the Groceries category in your city. There are currently 2 KwikSpar catalogues on Tiendeo. Browse the latest KwikSpar catalogue "Enjoy A Christmas Of More" valid from from 5/12 to until 25/12 and start saving now!
Find KwikSpar catalogues in your city
KwikSpar, all the offers at your fingertips
KwikSpar offers shoppers excellent convenience when it comes to shopping from a comprehensive range of foods and non-food items. Have a look at the latest KwikSpar catalogue to view promotions.
About KwikSpar
KwikSpar is one of South Africa's favourite convenient stores offering a variety of food items both packaged and ready to eat, as well as some toiletries and other non-food items. KwikSpar specials can be found on a regular basis so have a look through the latest KwikSpar catalogue for promotional items to save you money on your next purchase. Find all you need from the bakery whether it be freshly baked savoury or sweet treats, or get to the deli for other ready to eat items and if you're doing some shopping KwikSpar is convenient enough to have a comprehensive selection of packaged foods and non-foods suited to your needs. You can also get convenience such as coffee to go and a kiosk to make account payments or purchase electricity and airtime or play the national lottery. KwikSpar branches include but are not limited to KwikSpar Durbanville, KwikSpar Ottery, KwikSparSommerset and KwikSpar Vredehoek. There are virtually stores located throughout every province in SA.
The origins of KwikSpar
KwikSpar was established to bring shoppers even more convenience in getting their essentials for grocery shopping and more. As a division of Spar, KwikSpar reaches a large customer base and KwikSpar stores can be found all over South Africa. KwikSpar thrives on delivering customer service excellence and provides shoppers with high-quality, affordable products.
Get shopping convenience at KwikSpar
KwikSpar is an extension to the Spar group of stores and has stores located throughout South Africa. Here you'll find all you need if you're looking for fresh and tasty foods from the bakery, deli foods, packaged goods, and some toiletries. Unlike the larger Super Spar's that feature a restaurant and large stores, KwikSpar stores are relatively smaller and gives shoppers the essentials especially if pressed for time. You can own your very own KwikSpar franchise and join the company, contact the Spar Group for more information. As KwikSpar is part of Spar, the division also practices stringent measures to reduce impacting the environment on a negatave basis. KwikSpar is also dedicated to skills development and assisting in benefiting local comminities in a positive manner. You can use Spar Rewards at KwikSpar stores as well and conveniently make payments on certain accounts, purchase airtime, buy electricity and lots more. Browse for great specials via the Kwikspar catalogue.