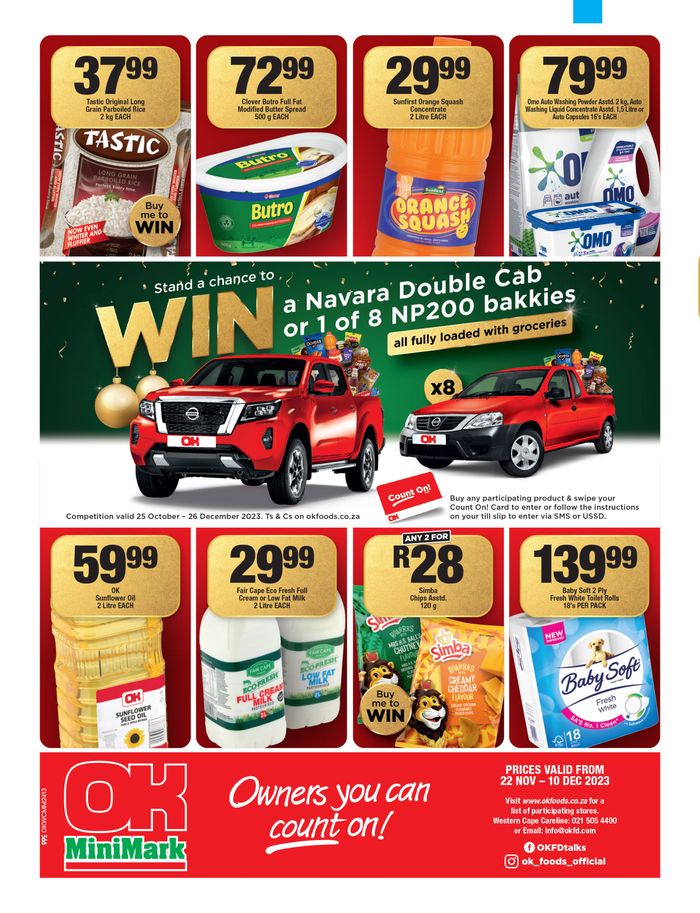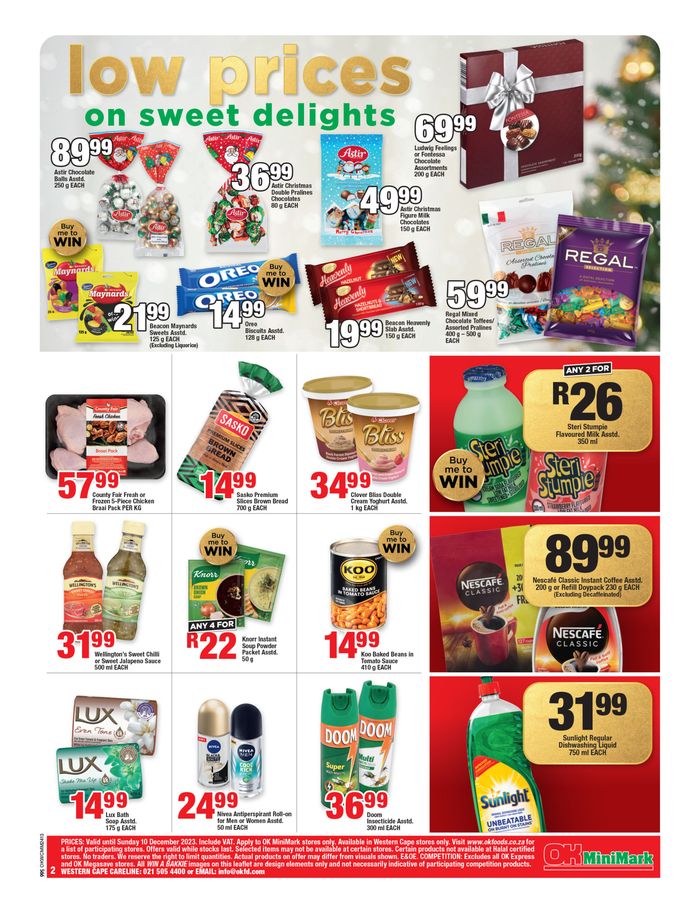 Low Prices On Sweet Delights
Looking for the best OK MiniMark offers
If you are looking for the biggest OK MiniMark discounts you are in the right place. Here on Tiendeo, we have all the catalogues so you won't miss out on any online promotions from OK MiniMark or any other shops in the Groceries category in your city. There is currently 1 OK MiniMark catalogue on Tiendeo. Browse the latest OK MiniMark catalogue "Low Prices On Sweet Delights" valid from from 20/11 to until 10/12 and start saving now!
Find OK MiniMark catalogues in your city
OK MiniMark, all the offers at your fingertips
OK MiniMark is a convenient grocery and food outlet giving shoppers the chance to save on great tasting foods fresh from their bakery and deli section. See the OK MiniMark catalogue for specials
About OK MiniMark
OK MiniMark is part of a large food retail family, priding itself with affordable prices for customers nationwide. Branches stock a variety of ready to eat foods, deli products and fruit and vegetables to name a few. You can have a look at the OK MiniMark store locator found on the company's website and locate branches nearest to you. Also for excellent specials to save even further on their already affordable items, simply browse the latest OK MiniMark catalgue for promotion on seletced items. OK MiniMark stores can be found all over South Africa including the likes of OK MiniMark Mowbray, OK MiniMark Durbanville, OK MiniMark Bothasig, OK MiniMark Strandfontein and several more.
The origins of OK MiniMark
OK MiniMark is part f the OK foods franchise group and brings shoppers the convenience stores located throughout high traffic areas and residential areas. Each outlet stocks a variety of fresh baked goods from their bakeries, hot ready to eat fast foods, fresh meat, fruit and vegetables and some grocery items as added convenience. Most OK MiniMark stores are about 300 square meters at most and can vary being smaller too. OK also takes pride in giving business women and men the opportunity to franchise or wholly own an OK MiniMark store.
Get great products at OK MiniMark
With OK MiniMark you can enjoy the convenience of picking up a few grocery items like fresh fruit, vegetables, prepacked meats, baked goods, some grocery items as well as small household goods. You can get good OK MiniMark specials available nationwide, browse the OK MiniMark catalogue for promotional deals. Most OK MiniMark stores are located in residential areas as well as high-traffic flow areas, use the OK MiniMark store locator to find a branch near you. If you want to be part of the franchise business and own your very own store simply see the OK MiniMark online website or contact their head office for details. you can also check out the company website for OK MiniMark for sale stores so you can purchase and wholly own your very own OK store. For careers, you can join the OK family and submit your resumes and CV's to the company's head office or via the website to browse for job vacancies.