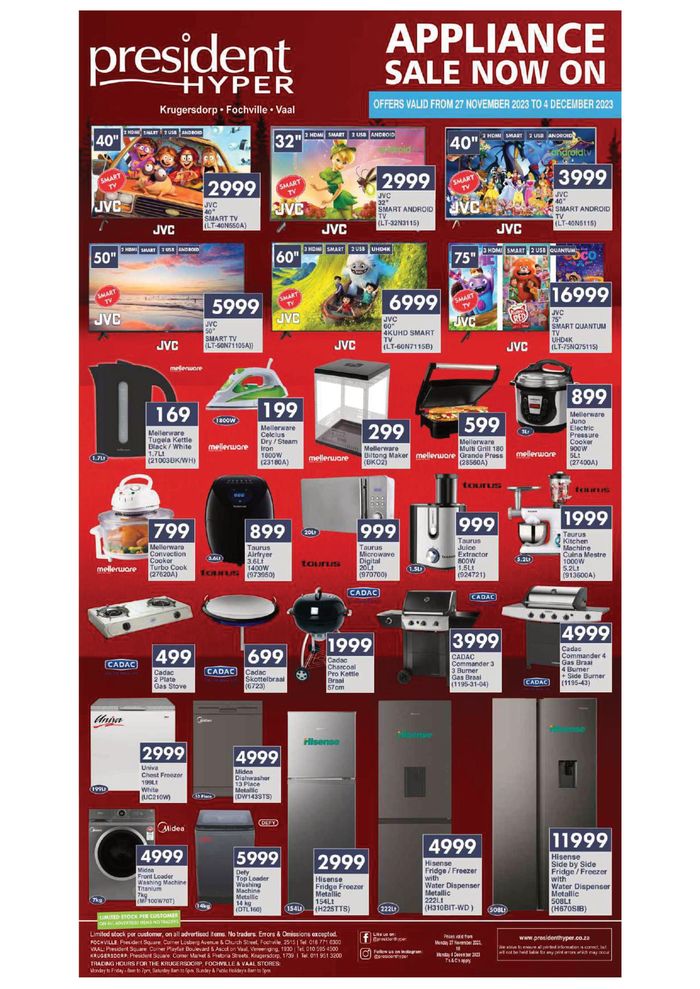 President Hyper Appliance Sale
Looking for the best President Hyper offers
If you are looking for the biggest President Hyper discounts you are in the right place. Here on Tiendeo, we have all the catalogues so you won't miss out on any online promotions from President Hyper or any other shops in the Groceries category in your city. There are currently 2 President Hyper catalogues on Tiendeo. Browse the latest President Hyper catalogue "President Hyper Appliance Sale" valid from from 29/11 to until 4/12 and start saving now!
Find President Hyper catalogues in your city
President Hyper, all the offers at your fingertips
Presedent Hyper presents exceptional quality for all your grocery needs such as fresh produce, dry products, household and more. Save with great deals, see the latest President Hyper catalogue specials and for more information.
About President Hyper
President Hyper supplies all its customers with quality items to meet all their shopping needs albeit dry items or fresh produce, whilst still allowing for affordable prices. President Hyper liquor specials is great especially if you need to purchase a nice gift for someone, or some alcohol for a casual get together. Customers can shop and save when they purchase President Hyper appliances that are featured as promotion, some of the large and small appliances includes trusted brands such as LG, Samsung, Kelvinator, HiSense and Russell Hobbs to name a few. President Hyper branches are namely President Hyper Vaal, President Hyper Krugarsdorp, and President Hyper Vereeniging. Customers can browse the President Hyper website for a better idea of the groceries and products sold and to enjoy money saving deals shoppers can simply view the latest Presedent Hyper catalogue to enjoy further savings with all shopping requirements.
The origins of President Hyper
President Hyper has become an ever-growing supermarket founded by George Synodinos who established the company on the firm basis of providing customers with affordable products without compromising on quality. The company's dedication to customer satisfaction is amongst one of the many aspects that makes President Hyper South Africa popular. President Hyper also strives to remain SA's cheapest supermarket, stock a large range of groceries so customers have a variety to choose from, all departments (bakery, deli, and butchery) produces excellent quality, striving to deliver the best customer service and strive to keep the store bright and create a pleasing environment to shop.
Get quality products at low prices at President Hyper
President Hyper is an ever-growing South African supermarket that competes with top food retail giants and has been voted one of the top 5 hypermarkets in South Africa. Shoppers can enjoy truly excellent quality and purchase trusted and well known brands without having to break the bank. There are often President Hyper specials available, so ensure that you get to view the latest deals in the latest President Hyper catalogue before doing your shopping. For shoppers looking to purchase some home appliances then you've also come to the right place as the store stocks a large variety of minor and major appliances suchs as fridges, freezers, washing machines, blenders, food processes and more. Appliances are available in leading brands like Samsung, HiSence, LG and Russell Hobbs as well as power tools in leading brands such as Bosch and Ryobi. Start saving today visit a branch near you for all your shopping needs.