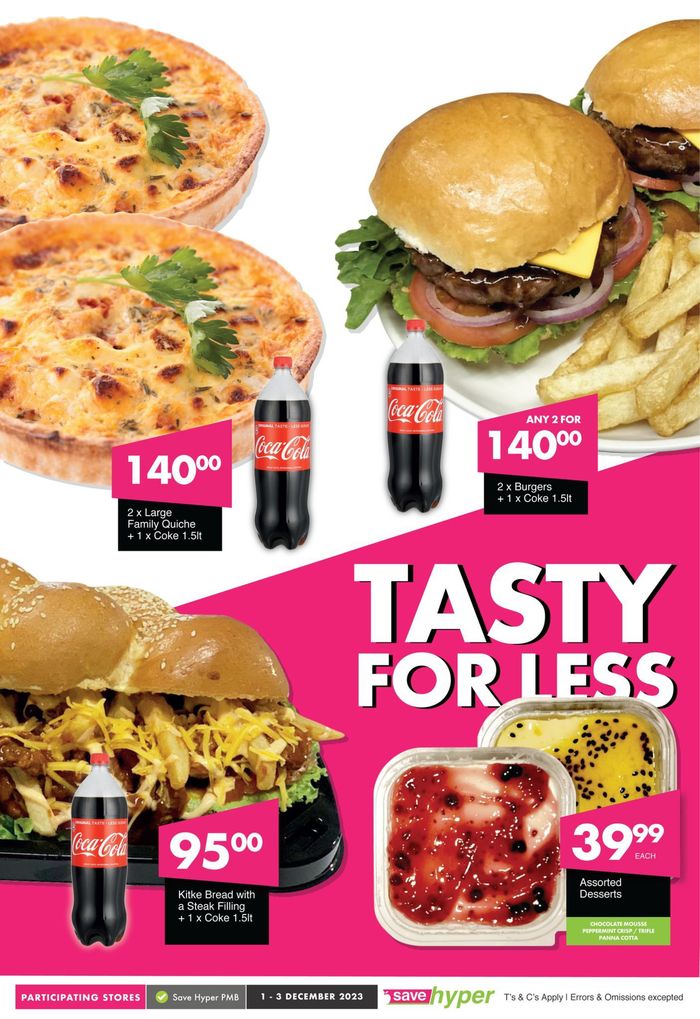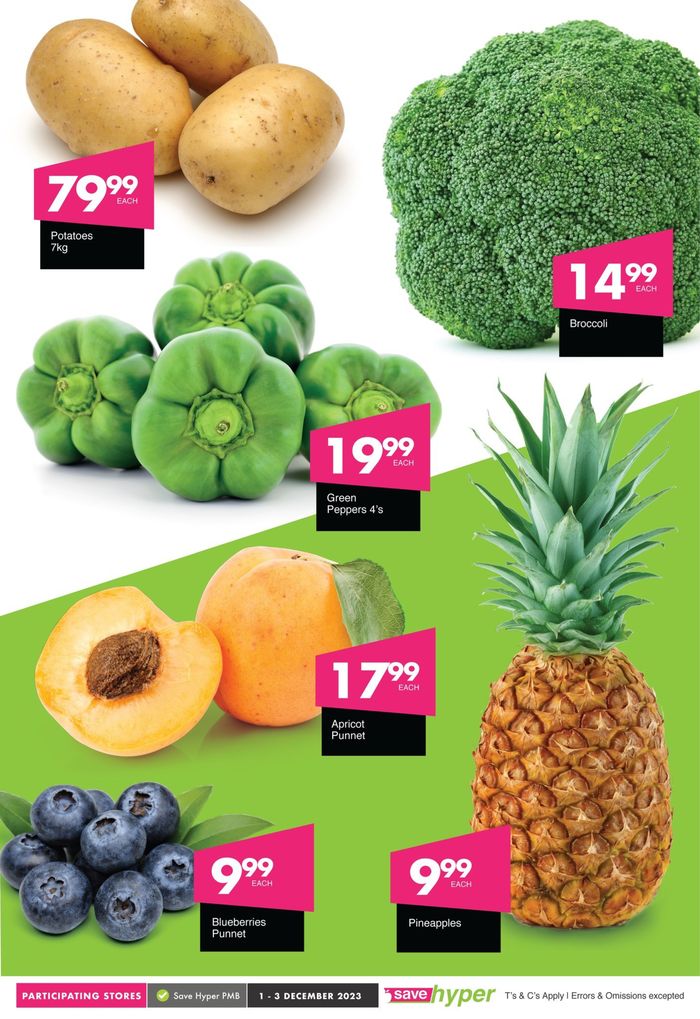 Save Hyper Tasty For Less
Looking for the best Save Hyper offers
If you are looking for the biggest Save Hyper discounts you are in the right place. Here on Tiendeo, we have all the catalogues so you won't miss out on any online promotions from Save Hyper or any other shops in the Groceries category in your city. There are currently 5 Save Hyper catalogues on Tiendeo. Browse the latest Save Hyper catalogue "Save Hyper Tasty For Less" valid from from 30/11 to until 3/12 and start saving now!
Find Save Hyper catalogues in your city
Save Hyper, all the offers at your fingertips
Save Hyper is one of South Africa's leading wholesale retailers for low prices on a large variety of quality groceries, electronics and more. See the Save Hyper catalogue for promotions.
About Save Hyper
Save Hyper is known for their affordable prices and comprehensive variety of products whether you're shopping clothes for the family, looking for electronic items or need to do your grocery shopping, you'll find it at Save Hyper. Save Hyper already competes with other large companies within its league and whilst you can enjoy great market competitive prices, Save Hyper specials are also frequently available so make sure that you see the latest Save Hyper catalogue for money saving specials. Save Hyper fridges, washing machines, dishwashers, and freezers are available in leading brands whilst shoppers can still enjoy their money saving deals. Save Hyper's clothing range is suited to the whole family and you'll also find some quality footwear, accessories and more to complete any look any day. Save Hyper stores contact details can be found on the company website as well as stores locations so you can find a branch closest to you and start enjoying your share of quality affordable goods.
The origins of Save Hyper
Save Hyper was founded by Moosa Noorgat who had established one of the largest Cash n Carry stores within the Pietermaritzberg region South Africa in 1987. 2009 marked the beginning of expansion for the company and it was then when stores where incorporated with state-of-the-art butcheries, bakeries and delis, giving shoppers even a wider selection of products. The years that followed saw positive growth for the company with Save Hyper stores located in Dalton, Truro and Howick to name a few.
Get great deals at Save Hyper
Save Hyper is all about great service, quality products and value for your money whether you need to get a TV, upgrade your mobile phone, shop for clothes or simply doing your grocery shopping, you'll find all you need under one convenient roof at Save Hyper. There are Save Hyper stores are located throughout Pietermaritzberg and the Save Hyper PMB trading hours can be found on the website, branches trading hours may vary from store to store so confirm with your nearest branch for details. Save Hyper stocks a wide selection of leading brands so you can rest assured that you're getting the quality you're looking for. You can also purchase a gift voucher to spoil someone and let them have the liberty to choose. For excellent deals make sure that you see the latest Save Hyper catalogue and enjoy your next shopping experience at a store near you.