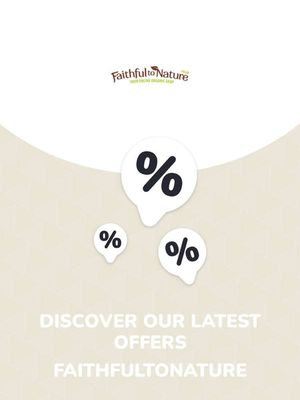 Offers Faithful To Nature
Looking for the best Faithful to Nature offers
If you are looking for the biggest Faithful to Nature discounts you are in the right place. Here on Tiendeo, we have all the catalogues so you won't miss out on any online promotions from Faithful to Nature or any other shops in the Groceries category in your city. There is currently 1 Faithful to Nature catalogue on Tiendeo. Browse the latest Faithful to Nature catalogue "Offers Faithful To Nature" valid from from 22/9 to until 22/9 and start saving now!
Faithful to Nature, all the offers at your fingertips
Faithfull to Nature is a South African online company specialising in organic products for health, beauty and gifting items. See the Faithful to Nature catalogue and start saving on your purchases.
About Faithful to Nature
Faithful to Nature is one of South Africa's leading online beauty stores specialising in all things natural for health and beauty care. Faithful to Nature products are available over a wide variety these categories include the likes of food, health (healing treatments, skin remedies, supplements and vitamins, healing botanicals) beauty (makeup & face), body (bath products, skincare, for him, for her, personal care, hair, aeroma therapy, hands&feet), kids (babies, mommies, children, eco-friendly toys, food), lifestyle (fashion, fitness, meditation, outdoors, entertainment), home (inscense, candles, garden, equipment, cleaning & homecare), gifts and new products. Faithful to nature Argan oil can be used for the skin and hair as argan oil is known for its ability to encourage healthier skin and hair since ancient times, purchase argan oil items at Faithful to Nature at affordable prices. Some of the brands include AllisOne Tissue Salts, Alive Products, African Forest Mediclinals, Akan, Argan Green and Down to Earth to name a few. See th Faithful to Nature catalogue for excellent saving on selected items.
The origins of Faithful to Nature
Faithful to Nature was founded in 2007 by Robyn Smith and 8 years later it's become one of South Africa's leading online organic retail shops. Robyn's desire for the company was to create a place where people can feel free from the daily stresses of life and work and to be able to peacefully shop and know what goes into every product sold at the store. Dedication to being open with customers is one of Faithful to Nature's core values as well as trust, reliability, honesty and good ethics.
For a step to a healthier you, visit Faithful to Nature
Faithful to Nature is an online South African retail store that stocks a wide variety of organic and natural products for health and beauty essentials tailored to men and women. Shoppers can enjoy the Faithful to Nature organic range of products as a one stop place to shop online within the comfort of your home and what's even greater news is that all purchases that exceeds R350 gets free delivery. The Faithful to Nature Blog has some wonderful reads and advice as well as tips for you to enjoy, because changing to a healthier lifestyle has a world of benefits for you and your family. Signing up for the newsletter includes a free shopping voucher worth R100 to spend at the store. Purchasing a gift for someone does not have to be hard, get the Faithful to Nature gift voucher and let them choose what they'd like. See the Faithful to Nature catalogue for good deals on products.