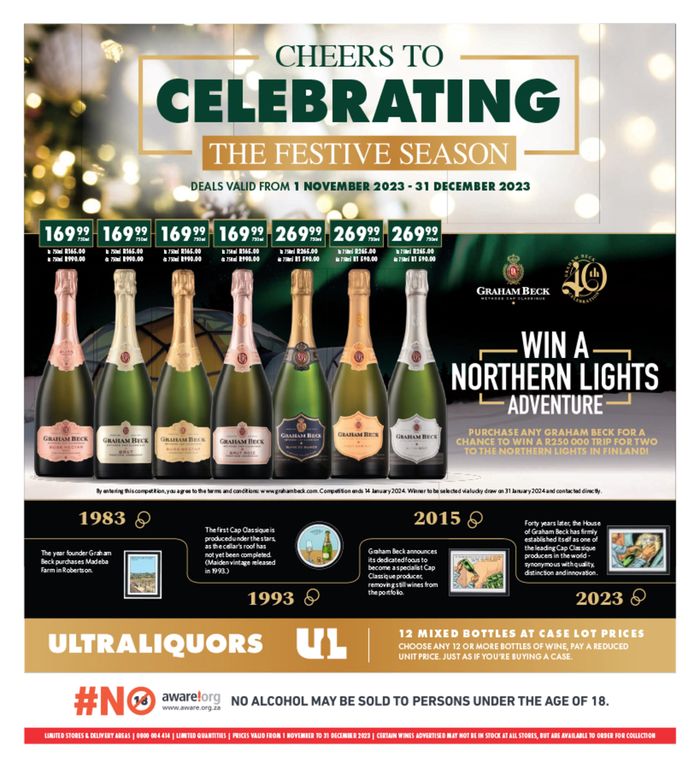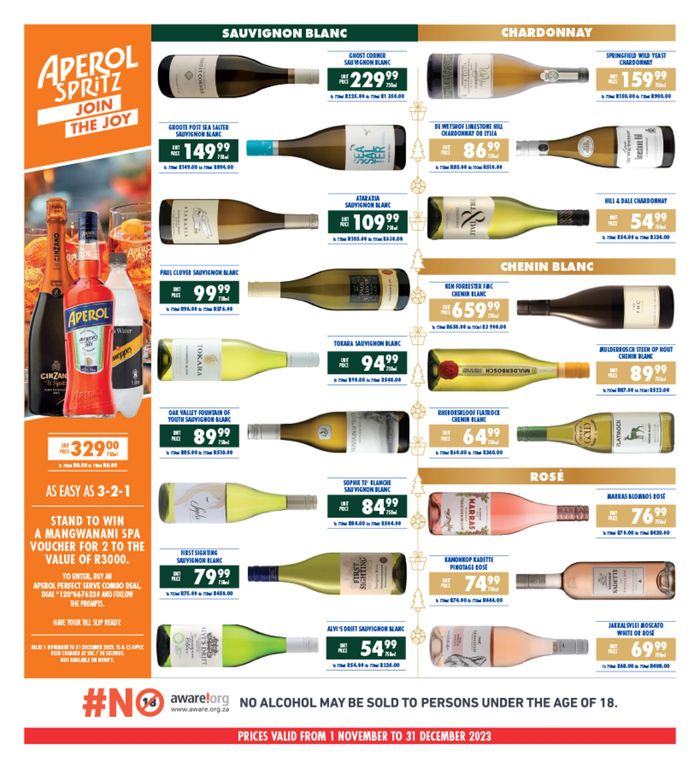 Celebrating The Festive Season
Looking for the best Ultra Liquors offers
If you are looking for the biggest Ultra Liquors discounts you are in the right place. Here on Tiendeo, we have all the catalogues so you won't miss out on any online promotions from Ultra Liquors or any other shops in the Groceries category in your city. There is currently 1 Ultra Liquors catalogue on Tiendeo. Browse the latest Ultra Liquors catalogue "Celebrating The Festive Season" valid from from 31/10 to until 31/12 and start saving now!
Find Ultra Liquors catalogues in your city
Ultra Liquors, all the offers at your fingertips
Ultra Liquors specialises in bringing shoppers a wide selection of alcohol and non-alchohol beverages for every occasion. From wines and cognacs to beers, ciders and shooters, see the Ultra Liquor catalogue for specials.
About Ultra Liquors
Ultra Liquors stocks a large selection of liquors in a vast variety of brands and catering for every taste and preference. Customers can shop from categories comprised of beer, brandy, wine, whiskey, liqueur, vodka, cider, and several more whether it's spirits or something light you're looking for, albeit with alcohol or non-alcohol beverages. Ultra Liquors prices are market competitive, however prices may change from store to store. View the latest Ultra Liquors catalogue for more information about recent deals. There are several Ultra Liquor stores located throughout South Africa and to find the one closest to you, simply use the store locator for store contact number and address. Some of the branches include the likes of Ultra Liquors Green Point, Ultra Liquors Wyneburg, Ultra Liquors Bloemfontein and several others throughout the country.
The origins of Ultra Liquors
Ultra Liquors South Africa was established in 1985 and has grown over the years supplying over 1,800 businesses and their requirement for liquor supplies. Ultra Liquors is one of South Africa's leading liquor supplies stores and also rated as one of the top three liquor chains by volume in SA by AC Nielsen. Other great achievments include the company as a whole being recognised and awarded by DTI as one of the top 300 companies in South Africa for job creation and economic growth for the past 6 years. The company strives to be the leaders when it comes to liquor supplies at market competitive prices. To date there are a total 28 Ultra Liquor stores and 14 franchise branches in SA.
Get to Ultra Liquors for a large selection of liquors
Get all the liquor you need whether you stocking for your bar or simply getting some drinks for a party. Ultra Liquors is a responsible liquor retail provider and does not supply alcohol to under aged persons. The award winnig company has several years in the industry and continues to bring shoppers the best in quality products and services. You can view Ultra Liquors store locator online and find a branch near you, as there are several Ultra Liquor stores located throughout the country. When it comes to Ultra Liquor specials, you can rest assured you'll find some good ones by having a look at the latest Ultra Liquors catalogue for money saving deals. Customers can apply for the Ultra Liquors Card to enjoy great rewards and cash back where applicable as well as points and other benefits. The company also allows for franchise opportunities for folks looking to join the family. Customers can also get money saving coupons via the Ultra Liquor website.